You Don't Know Yet
May 22, 2018
I arrived early, and checked in the usual room. No one was there, the lights were dark, so I walked out and paced in the lobby. Some others arrived, so I followed them into the backstage dressing room. We all stayed there for a while, but then the two left and never came back. Worried, I walked out of the dressing room, leaving my bag, and checked the usual practice room again. All of them were there. I rushed back, grabbed by bag, and joined them. She was there also, and I was unconsciously following her around sometimes. My friends and I were talking together when the two of them walked away, leaving me alone, talking about something. She turned toward me, opening her arms. She huged me. I'm so happy, for the time I'm with her. She lets me go, softly, delicately, and calls. "Free hugs~" 
We lined up backstage, waiting for our act. I was lined up slightly away from her, but my friend was right next to her. My friend, turns out, forgot to take off her ankle brace, so I helped her take it off and put it away on the backstage table. The act before us ended, and the lights went dark. As soon as the curtain closed, "Serenade Girls, Good luck!" She said. I was standing next to her, so she put a hand on my shoulder. We were in that position for 10 seconds (again) and I ran to my spot as soon as she let go. I felt warm inside.
The dance ended, and her choreography was to fall on the ground, so she did. As soon as the curtains closed, I ran to her. She looked up at me, so I gave her a big thumbs up.
We finished the bows and retreated to the usual studio. Our dance teacher walked over to me and told me to tell everyone to put our skirts in a pile in a corner. I tell her that, as she watched me, and laughed. I threw my skirt, then she threw hers, and then all the others threw theirs. She looked at me. "Take a picture of that when it's done." She giggled. "Okay." I took a picture, with her in it.
We held eachothers gaze for a moment.
She doesn't know,
not yet.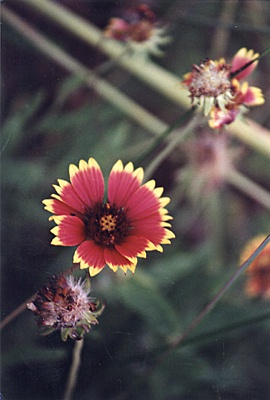 © Brian G., Phoenix, AZ