Lost in a Train of Thought
MAG
May 10, 2018
The moment my right foot steps onto the train at Frankfurt Hauptbahnhof, a familiar thrill zips from the tips of my toes through my body. I'm headed to rural Germany for an important music festival. Although I'm not journeying to the North Pole aboard the Polar Express or to Marrakech to check off a box on my bucket list, the edges of my mouth creep up as if I were headed someplace magical all the same. I'm once again the dewy-eyed five-year-old who asked Santa for a Thomas the Tank Engine play set. Despite the train not having moved a single inch, I'm transported to another world.
My mind flashes back to Japan, 2005. Once my family and I are aboard the Nozomi Shinkansen (bullet train) at Tokyo Station, I'm deliriously happy, giddy even – and the fun begins. My mom pulls out a piece of string and teaches me ayatori, creating intricate animals and figures using a single piece of string. We open our bento boxes, the sweet smell of vinegared rice wafting out of the layers of preserved vegetables and fresh slices of fish. Looking out the window, I see a picturesque, snow-capped Mt. Fuji for an instant before the shinkansen plummets into a tunnel – a pitch black vacuum. Just moments later, we resurface and I see miles of sun-dappled green as the hazy figures of traditional homes whiz past. I chit-chat with my parents, sipping on green tea.
There is no luxury or lavishly scrumptious food that entices me to choose the train over car or plane travel. In fact, it's rather simple – ordinary citizens and families traveling from point A to point B in a shared vehicle. Yet that is precisely what excites me. I've taken trains in the United States, Germany, Japan,
England, Belgium, and France. Violin case slung over my shoulder, I journey from one place to the next with little time to stroll around each country, making train rides an art amidst my travels. The tables have now turned and I'm no longer a part of the picture, but an observer, engaging in a never ending game. Looking across the aisle and seeing not a platinum-haired girl drawing like I did on my previous trip, but an old man reading Le Monde, and trying to make out the headlines using my French abilities. My curiosity is piqued, wanting something more, wanting a bigger picture beyond this microcosm.
For me, stepping onto a train breeds familiarity, yet not monotony. I find comfort in sitting down into a cushioned seat and looking out the rectangular, metal-rimmed windows. What I see – the types of trees, the scale of the mountains, the architecture of homes – reminds me that this trip is different from the last. The shock of seeing something I've never seen before indicates the beginning of another journey. I've found that I cannot resist the allure of a train: the feeling of being in an isolated world away from the one we inhabit, each train containing a different cross-section of people, yet always bound by a common destination. I treasure the inimitable sensation of my body sitting leisurely while my mind itches for more, continuously chugging, chugging, toward the next adventure. I realize I value cultures, new experiences, the beauty of the little things in life, the distinct mannerisms of societies and habits of families.
Stepping off the train in foreign territory, a taste of Germany sits on my tongue. My core is thirsty for an adventure – one that is challenging, artistic, and intellectual.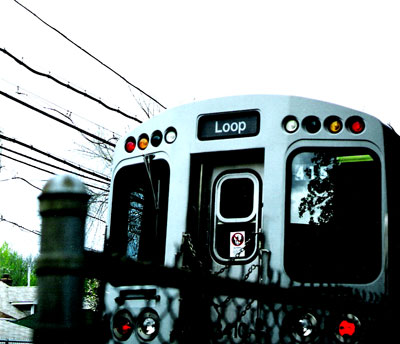 © Alyssa V., Chicago, IL