Pursuit of Happiness
May 9, 2018
Many find the concept of being infatuated with someone one has never met to be eccentric or absurd. I too conformed to this notion, until the admittance of Scott Mescudi in my life. Known by many as "Kid Cudi," he became known to me as a counterpart and inspiration. Because of his various albums and catchy songs, it is not uncommon for one to be able to recognize his pieces of work, having only heard them once. His music possesses an aura that allows one to be completely captivated and feel his own emotion. My goal, however, was to feel this emotion and captivation in person, instead of through my headphones.

It was October of 2017; a brisk air was ambient in the city of New Orleans. As I entered the gates of Mardi Gras World, a crisp breeze stung my exposed legs. Living in New Orleans, the everchanging weather no longer permitted my attire of a short sleeve top and shorts, that overlaid my being. As soon as I entered the vicinity, the atmosphere shifted. Excitement and longing filled the air, along with various persons: some tall and slender, others short and stout. Quickly, the room was crammed with people, as each of us waited for the commencement of the concert.

Finally, the moment I had waited for had arrived. The lights went off and I could no longer see my hand in front of my face. The, with a shimmering flash, my idol appeared. Suddenly, vibrant fuchsia, neon blues, highlighter yellows, and bright purples covered the stage. Behind Kid Cudi, I could see an intricate background, filled with lush and abundant plants; on the projector behind him were scenes of jungles and forests. Smoke covered the floor, as it crept off the stage while looking like an animal stalking its prey.

The music began and my face was glowing with a smile. I began to feel a ringing in my ears as I recognized the familiar sounds of Kid Cudi's melodies. In that very moment I thought to myself, "Wow, this is the best set I've ever heard." I was completely amazed by the songs he performed, is that they were some of the most beloved and cherished by me. As members of the crowd began to jump up and down, each other individual felt destined to do the same. Eventually, the whole crowd was swaying to the beat and the volume became loud as each individual sang their heart out. The crowd continued in this fashion, until the end of the concert.

Lastly, the final song had ended and I became melancholy as I watched my idol leave the stage. I had never been more upset about seeing a pair of skinny jeans and a black t-shirt walk away. Confetti rained from the ceiling and appeared as though it were raindrops on a stormy day. I waited for Kid Cudi to enter the stage again, answering the crowd's plea for an encore. Contrary to my hopes, Kid Cudi did not reappear. Kid Cudi has the ability to convey a story and make one feel as though he or she is walking through each chapter with him. Though my only goal was to see Kid Cudi perform in person, that goal was exceeded. I left with more than a great memory.
Instead, I left with a new profound passion for how one's music can make another person feel when he or she is in the same room as that artist. It is an experience that I otherwise would not have been able to have, being that this particular artist had a profound effect on me. To this day, no other artist has been able to produce the same response from me. No matter which other artists I see or am intrigued by, Kid Cudi and his music, will always have a special place in my heart.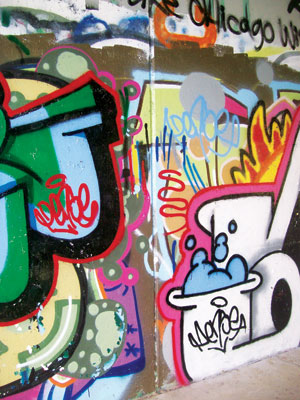 © Michelle W., Ada, MI