The Greatest Gift
May 9, 2018
I have spent years building up to this moment! At my church, I have given many years of my life attending school and masses and celebrating the sacraments of Reconciliation, First Communion, and recently, Confirmation. Throughout these years, the carpet is still crimson red with a stain on the steps and the pews are still oddly placed in a circle around the altar. The banner decorating the altar has never been hemmed to touch the floor, and I can practically see all the religious skits and class masses performed here. From first to eleventh grade, this church and community has watched me grow up while remaining the same, so celebrating my Confirmation should be routine, right? However, on Wednesday, April 18th, 2018, I walked out of this never changing church as a changed lady.

"Gertrude, Be sealed with the gift of the Holy Spirit" are the words that made this event noteworthy. These words were said quickly by Archbishop Aymond, but I will always remember the feeling they gave me. Archbishop Aymond had mentioned beforehand that he would initiate a spiritual connection with us as he seals us with the chrism oil, but I did not comprehend the magnitude of this connection. Archbishop Aymond and I locked eyes as he called me by my new name and drew a cross on my forehead. He never knew me as Caroline and did not care what sins I had committed because from that moment on, I was spiritually known as Gertrude. This sensation was accompanied by the pressure of my sister's hand on my shoulder and the eyes of my mother and friends. Time seemed to stop and I almost forgot what to respond at that moment. Although I had watched my friends get confirmed before me, I felt like I had a spotlight on me from the moment my pastor introduced me as Gertrude of Nivelles patroness of cats, travel, and the recently deceased. Usually, I love to live in the limelight as a dancer, but this time the attention humbled me and gave me the confidence to live my life as Saint Gertrude.
I will admit that this physically small and common gesture brought tears to my mother's, sister's, and my eyes. The sorrow and joy associated with this sacrament were not spoken of until afterward, but we were mutually thinking as one during the ceremony. My confirmation was the first major event for me that my grandfather had missed since his death three years and nine days prior. He was the first person to pop in my mind when I was asked who my sponsor would be because he was my role model and best friend. His absence was felt by all three of us for he was no longer there to watch me grow and share in our joy. I like to think God and my grandfather knew these feelings would resurface and blessed us with my great-uncle who was able to attend the ceremony to temporarily fill my grandfather's position and provide physical support to my family. My heavy heart did not repair itself or rid of the hatred from my grandfather's death through this sacrament, but I was given a new sense of peace that my grandfather is sitting next to God and Gertrude watching me laugh and cry and grow.

Therefore, the moral of my Confirmation, so I have found, is to indulge myself and see beauty in all of God's actions because I will never know what He is trying to tell me until I receive His grace. The loss of my grandfather had made the moment of anointing sorrowful yet peaceful. Even though I was walking up the aisle as routinely as my other confirmands, God gave me a special experience that touched my family's and I's heart forever.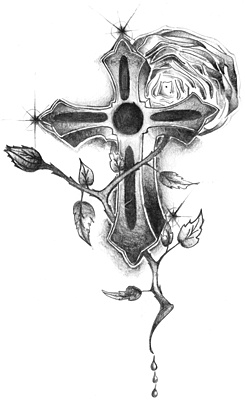 © Ricky P., Natchitoches, LA