Human Trafficking
May 2, 2018
I felt the salt run through my skin, each crease filled with pure happiness. I could hear the water hitting against the plexiglass as it rocked the boat back and forth. We had docked finally, at St. Peters in the Caribbean sea. We hopped off onto the wooden dock, I was wearing my blue silk dress, which at first touch, was as if it was made from the ocean, and it's peaceful waves. My heels grazed the dock, with each step I took. Next to me was my sister with her dark hair flowing into the wind, and as if someone was painting and slowly ran out of ink next to her was her friend with light brown hair, and lastly was my sister's friend with very blonde hair.
On our walk back from a very filling dinner, when we saw it. The greyish white, modern and sleek boat, which laid at almost 150 feet. A couple stood aboard the back of the boat… little did I know they were not a real couple.
I took small steps past the vessel, so I could see the intricate detail that it possessed. Then my dress got caught into the side of the ship ripping a small hole into it. The couple turned their heads slowly, as if they were puppets being mastered by the same person. They invited us on their boat for a tour, and the next thing I knew my sister, her friends, and I were standing in the middle of the yacht. Suddenly children of all ages came running into the room, it would shake the boat if it wasn't so massive. They threw around names and hoped that we would believe them. My silk got caught into the side of the drawer, as it tore a little as I got it unstuck. The strangers offered us drinks, we said no. They offered more, we said no. They continued until the word no seemed like it wasn't even part of the english language.

The game room. The boat tour we were promised was cut short at the first room, as the children escorted us off the boat and into the depths of the island. As if the forest opened itself up, it revealed a house. Modern, sleek, and with clean lines throughout the structure. We entered and saw a pool table along with other games. We were not going to use the pool table, or the games. They began to talk about the shops by their home in Puerto Rico. Each shop sounded less and less real. When I asked them who was related, panic filled the room and their eyes, as if they didn't know. They never truly answered my question.

I don't know if anyone has ever seen a raccoon peek through a window, it scares you for a second, but then reality sets in and you know they are harmless. That's how it felt when I saw my mother's head pop into the window of the game room. She seemed stressed, and with a tremble in her voice she asked us to come back with her, that it was getting too late. It was only nine o'clock. The way her voice sounded made us all stop what we were doing, and like robots we began to follow each other out of the room. A whisper filled the air so that only the kids could hear, the boat children said one final goodbye, and told us to sneak out later on to see them, but to make sure no one knew.

Back on our boat, my parents told us to sit down. The room felt cold. As I sat down the silk on my dress ripped more, so much so that it didn't even feel like silk anymore, it just felt like a blue dress. As we sat down they began to speak, telling us that the parents didn't even know which kids were theres. That they were part of hidden "drug cartel" companies in Puerto Rico. It seemed surreal, but it just kept coming. They told my parents to not worry about us that we might not come home or we might stay out late. It was then that I realized I had almost been human trafficked. All of the clues pointed to it.

I didn't sleep that night, maybe it was the fear or maybe it was the harsh reality I hadn't known until now. I looked across the room in my boat and saw the silk blue dress, actually it was just a blue dress, a distressed dress, maybe even just a rag. I turned my head away, and looked into the starry night, and as the night faded away so did I.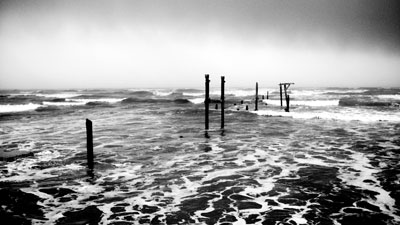 © Harrison L., Ruston, LA