Rivalry Week
May 1, 2018
All week we practiced like we had never practiced before, week four of football season had arrived. The week we had been training so hard for since the end of the last season. This week we would battle our league rivals from across the river. All week trash talk went back and forth between us, and one night our school spirit rock ended up painted a deep ugly green with a sheepish white "T" in the middle. We were furious but not surprised. Everyone on the team felt pumped for the game yet still in a kind of zone all week long.

Thursday came, time for walk-throughs and a team meal as we all prepared ourselves for the rough battle to come. Finally, Friday arrived, and the day had been a blur until we rested in the dark damp locker room with loud music bumping before we went out to the field. We all sat quietly as our hearts pounded in our chests and the butterflies in our stomach fluttered so intensely it felt as if they might fly out. It seemed longer that it was before coach wandered in and declared, "All right, guys, time to head out."

As we walked in unity, holding each other's sweaty hands on the way to the field, the smell of hotdogs and hamburgers wafted through the air; the band played in the distance, and young children could be heard screaming as they played football behind the bleachers. As we hiked out to the field, the rival fans booed, hissed, and cascaded buttery yellow popcorn at us, but as it pattered off of our helmets like a steady rain that worked as only more motivation to us.

We trotted out across the track onto the field under the lights; fans started to cheer, "Let's go, Pilots!" The soft ground squished beneath our feet.

Finally, pregame ended, and we kicked off. The moment we'd all been waiting for had finally arrived. We kicked the ball and pinned them inside their thirty-yard line. Shrieks and yells of the crowd and the players on both sides filled the air. They ran their first play, a sweep right. We executed it just like we had practiced all week, and I nailed their running back for a six-yard loss. I was pumped and reminded him, "I'll be here all night." I bounced up to celebrate the play. The crowd went nuts as we huddled to celebrate. That series went by with a three and out, so we tried some offense next. We ran a few plays, but after a few first downs, they forced us to punt, giving them the ball back. Just what someone would want for a rivalry game, an all out slug-fest in the first half, blue and green helmets cracking, bodies flying, and fans screaming.

Right before the half, they set up on our twenty-yard line. We really needed a stop there before the half. Their best receiver streaked a nine route straight down the sideline. Our corner covered him nearly perfectly, but their quarterback rifled his best ball of their entire season. The receiver made a diving catch for a touchdown, and they decided to go for two and made it. After a hard fought first half by both teams, the scoreboard read eight to zero. At the half our coach explained to us, "You are doing a great job. Keep fighting, and eventually they would break down."

After a short rest, we jogged back out to the field under the coolness of a fall night ready for the second half of the battle. The field sparkled green like an emerald as the lights glistened on its dew-covered grass. We prepared ourselves as we peered across the field at our opponents. Time to go. Both teams came out exhausted and battered but fought hard until the very end.

The clock started to wind down to the final minutes as we fought for a score. They received the ball with a minute and thirty seconds left. One of our seniors was a wreck, his last chance, last opportunity, neared the end. I tried to tell him, "It's not over," but devastation set in as they pounded the ball four yards at a time gaining first downs to run out the clock. The team felt crushed. We felt crushed.

Eight to zero, one touchdown, all it took to crush our hearts. After the game Coach told us, "It was a hard fought battle, and things just didn't fall our way," but none of us really wanted to hear it at the time. I was wrecked, the lump in my throat was a boulder so large I could feel it in my toes. Coach released us to go talk to our parents, and they all told us how proud they felt as they gave us big hugs. It didn't help much. We all slowly headed to the showers, so we could get to bed so that night could just be over. This won't happen next year.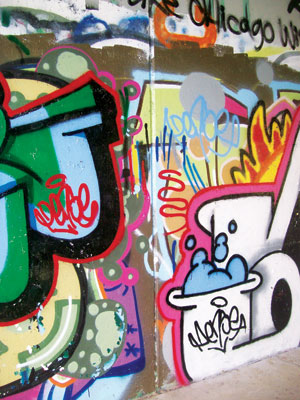 © Michelle W., Ada, MI