This Is 14
April 29, 2018
This is 14.
Being 14 is like carrying a whole new weight on your back. It's only one year older than thirteen yet it feels like you're a new person. Your childhood is behind you yet your whole adult life is yet to come. It's hard to decide which is more daunting. No more "playdates," little leagues, or being 5 minutes late to class. However, college, marriage and a family are just years away. Both have ups and downs. Being childish is a rare thing now and responsibility and work are in the future. So many questions face us as 14 year olds. You look at being 14 as a chance to mature but do you really know what to expect?
At 14 you are a big kid now. It's time to put on your big girl pants and take things seriously. Joking around in class is a bad decision unless you're willing to fall behind. Hard work is a necessity. Be responsible always. Whether you can admit it to yourself or not, it's time to grow up. Meanwhile, you want to be able to enjoy the fun moments too like getting ice cream or a nice bike ride. Why can't there be enough hours in the day for both?
Being in high school is something a lot of kids look forward to. Being with the older kids and living the high school life is a dream of many. This all begins at 14. Your friends might be totally ready for this. They might want to try new things and stay out until midnight. Maybe you were looking forward to this before but now that the time has come to live on the edge, you're nervous. Is that allowed?
When you're 14 it seems like you need to care about what everyone thinks. Even if you say you don't, you probably do. Pressure's on to look the best, be the most popular, and have the most friends. Being yourself comes as one of the hardest issues at 14. Liking your own hobbies and being open about it is a very scary task for some. Why do I have to hide the things I enjoy?
At 14 you're exposed to more and begin attempting to understand the world. You hear the news and the daily terrors around the world; you see kids doing things at high school that you've never seen before. You may be a teenager and decide to make some bad decisions but you also might be wise, smart, and mature. Is it possible to be both?
Becoming 14 means coming to a realization that your childhood hopes and dreams may not become reality. At 14, you step into the real world and understand how things may really turn out to be. Terror is real, bad guys exist, and you don't always get a happy ending. Is it possible to get through life while blocking it all out?
Fourteen is not getting enough sleep. Five years ago you bragged to your friends about how you stayed up the latest. Now, you wish you could fall asleep at 8:30. You have too many things to get done, a lot is on your mind, and an iPhone that's blowing up with snapchat's in your hand making sleep a last priority. It's 11:30 at night and it doesn't seem so bad, but when 6:30am rolls around, you'll wish you got that extra 45 minutes of sleep.
At 14, there's drama. Whether you want to be apart of it or not, it happens. Fourteen is hormones galore. There's the awkward couple that never speaks, the best friend that takes credit when they do, and the uncomfortableness you feel when there's silence around them. Friendships are falling apart left and right and you're the queen when you hear the gossip first. Why do we act so childish sometimes?
Fourteen is not knowing how to feel. It's a mosh pit of emotions. Are you happy, stressed, confused? Off the cuff comments are spoken daily whether you mean them or not and you probably curse in just about every sentence you speak. "Great" days are hard to come by but when they do, it's an amazing feeling. Although at 14 you're just now discovering who you really are and how you view life, your future is ahead of you and however you chose to make it, is how it will be.
This is 14. This is me. Now.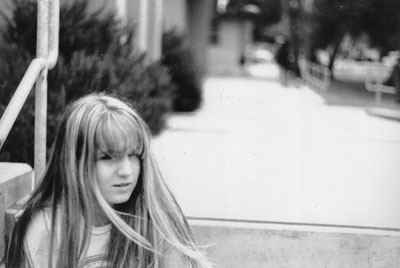 © Alyssa R., Pacific Grove, CA