My Worst Day of School
April 27, 2018
Looking back in hindsight this is one of my most proud moments of school but at the time this was my parents and I's nightmare. I was in the middle of a very competitive game of Pokemon Tag and I had a brilliant idea. Before I explain that I should probably tell you how to play the game. We would play in between two different entrances that had a wall of windows on the side. This formed a bracket type playing field. You were safe when you were on the 2 short parallel walls. I thought to myself that if the walls are safe then why wouldn't I run alongside the long wall so it'd be impossible for me to be tagged. I did my genius plan and my friend tagged me and said I'm it. I argued with him because there was no fine print in the rules that says you can't. He got mad at me and grabbed my arm and bit me.

"What the heck, dude!?" I yelled
"You started it!" he fired back.

I did not want to take responsibility for this so I did the only thing I could've done. That was obviously to punch him in the nose and make it starting pouring blood like a faucet. Through teary eyes and a bloody face, he grabbed my other arm and gave that a good bite too. We continued to brawl with me throwing punches and him trying to bite me until one of the supervisors broke us up.

"Down to the office! Now!" she yelled.

This is when the fear set in. I didn't realize that fighting another classmate would reel such repercussions. Who could've known? We walked down to the office arguing with one another on who started it. Once we got there, the principal sat us down and explained to us our consequences.

"I'm calling your parents," she said

"Sorry sorry sorry sorry," my friend and I said to each other in unison with heavy remorse. It obviously didn't work and my mom was at the school 10 minutes later to pick me up. As moms are, she was very disappointed and angry with me and rightfully so. Her 5-year-old son just made a kid leave a day of kindergarten looking like Sloth from the Goonies. Once we got in the car she explained to me my punishments. No Wii for 2 weeks and I'm not allowed to go play baseball with my neighbors. She might as well just said sit in your room and stare at a wall because she took away everything that was important to me. When we got home I walked in and saw my dad, and being the very concerned dad he is he asked me, "Did you win?"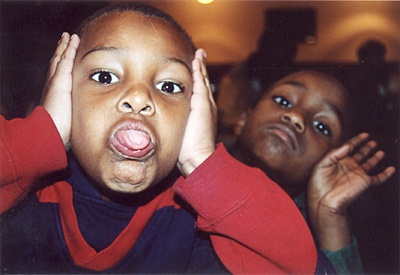 © Amy B., Alabaster, AL