Calling All Angels
April 27, 2018
A friendly old man's soul slipped peacefully away as a frothy delicate snow kissed the frigid earth on December 25th, 2017, the first white Christmas in years. "Happy Holidays" soon translated to "Sorry for your loss," as cancer caused my grandpa's ticking clock to screech to a hault on his favorite day of the entire year. For our family, organ music replaced the sound of jingle bells and poinsettias doubled as burgundy funeral flowers. As for the youngest two grandchildren, only two and five years old, a hearse and procession replaced their ideas of Santa's sleigh and his diligent team of reindeer.
Only two Sundays before, at our family get together, the blissful chatter and gift giving taking place amongst us all was interrupted by my grandpa's sudden announcement of a tremendous burden –his terminal illness throughout his whole body. With a feeble but brave voice he murmured, "You've all been a blessing. I want you to keep on being a family even when I'm no longer around." A pronounced silence lingered in the family room of his tastefully decorated mansion along with the faint trace of Christmas music, which trickled down the oak staircase. The tone of the evening flipped, and the room transformed with a blizzard of hugs, tears, and even bittersweet laughter as we put off goodbye and unwrapped the last gifts ever received from him. The following fourteen days allowed for him to make peace with his two children for all of the times he wasn't there; however, uncertainty filled the hours, as he never knew when he would inhale his last breath.

When the hour finally came, my bedroom door creaked as it suddenly swung slightly open, revealing a man whose look mimicked a younger version of my grandpa's—my dad. With bloodshot eyes he mumbled "You're grandpa has passed," and quickly shuffled away as abruptly as he had arrived. My cousin, sister, and I sat in silence with aching hearts but minimal tears because we had known the day was approaching. As our hands shuffled through old photographs and dusty nostalgia, we watched the man we would miss age through a slew of pictures. I cried a little.

My grandpa, who always had a gooey bag of melted m&m's in his shirt pocket, passed away in his home on Christmas, claiming to see the iridescent, white light. My grandpa, who always brought back souvenirs from Italy, Germany, France, and Jamaica for my cousins and me, ventured off to a new place where he had not yet been. Schaffer Funeral Home soon contained a winding line of people with respects to pay to the deceased. His children, grandchildren, remaining siblings, and wife hovered near the slick, glossy, casket holding a man who severed as a veteran, high school football star, and friend to many.

The cowboy hat he always wore to shield his melanoma from the sunlight sat tilted on his head, with his silky, silver hair poking out underneath. His gentle eyes slept beneath his thick-framed glasses. His wrinkly hands, rugged with scars from years of hard work, lay crossed over his limp body, which was dressed in starchy blue jeans and a velvety green flannel. "He looks just like he always did," his oldest son admitted. An American flag, folded neatly like fresh linen, and an unopened can of Dr. Pepper were propped up at his feet. The details of his appearance, adjusted to a tee, created the illusion of his lungs inflating with his breath again and his round belly shaking with his bold, contagious laugh. My jaw clenched, and my hands shook with the realization of the end of an era. His football record holder plaques and military honors sat scattered amongst condolence gifts and splintery wooden crosses. Along the back wall of the desolate parlor, a flat screen Samsung T.V flickered distorted pictures from his black and white prime a lifetime ago in the 30s and 40s.

Family and friends gathered for the last time to see him before his ultimate departure. "Calling all Angels" rattled through an old speaker over a sea of sniffles in the pews at the Nazarene church as the preacher relayed my grandpa's favorite memories while slowly closing the casket. "May he rest in peace," he added. With a gentle motion, the sleek wooden box was sealed shut.

On icy roads, a trail of cars snaked through his favorite scenic back roads, stopping only once they reached Evansport Cemetery. My throat tightened as we approached the massive crater in the ground. The ivory snow, fluffy and light like the decadent homemade ice cream he always prepared for reunions, crunched beneath scuffed-up dress shoes. The clenching of my jaw kept me from losing my composure. Five men, presented sharply in full military uniform, twirled rifles and clicked their heels with respectful precision as my bones quivered and jumped with the metallic bullets that sliced the freezing air. "Today we bury an honorable man who proudly served in the U.S Army," claimed one of the somber soldiers. With runny noses and crying eyes, we peacefully left my grandpa to rest under a fresh, white blanket of snow.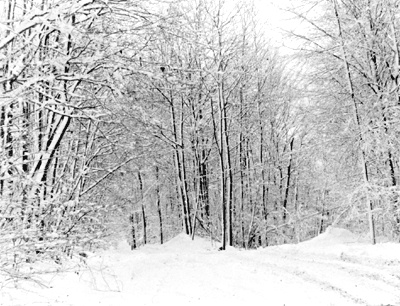 © Thomas S., Portville, NY