Why Us?
April 24, 2018
It was a bright, sunny day in Pensacola, Florida. Not even a week had passed since the last day of school, and my friends and I were already starting off the summer right by celebrating with a beach trip. On this particular day of the trip, we decided to walk to our favorite restaurant for lunch. It was about a ten minute walk outside, but we didn't mind the heat; we were so excited to finally be on vacation. The sun shone like a ball of fire in the sky, beating down onto the black asphalt. My friends and I were dressed in shorts and a shirt to cope with the sweltering weather. We were walking down the street without a care in the world; however, our peaceful walk did not last long. Before we had even gotten a mile down the sidewalk, a truck containing two college aged boys drove by us on the road. As the truck passed us, the boy in the passenger seat stuck his head out the window, catcalling and yelling degrading names at us. Taken aback, my friends and I stopped dead in our tracks. "Excuse me?" I yelled with a disgusted look on my face. My shouts were useless; the truck was already gone.

My initial reaction to the situation was shock. I could not believe that someone actually just called me and my friends a name so malicious and mean. A name that can be seen as a joke until someone spitefully uses it against you. Once my shock dissipated, anger began to course through my body. I felt belittled and powerless. My friends and I began to call him what he had called us, though it was pointless since the truck had driven away. We began to question why this happened to us because we saw nothing wrong with our outfits. It was summertime in Florida with temperatures reaching 95 degrees. We were not the only people walking down the streets wearing shorts, either. Plenty other people we passed on the street were wearing exactly what we were wearing or something more inappropriate; yet they were not called out.

Looking back at the situation, my reaction might not have been the most mature. I had every right to feel shocked, angry, and degraded, but I did not have to act on my emotions. I let his words get to my head when I should have just ignored him. This encounter has taught me that it is easy to let your emotions control you, but that doesn't make it right. Being the bigger person is easier said than done, but it is a lesson that, when learned, will make you a stronger and better person.

In today's society, women are often degraded. We are given a long list of rules, mainly with the intention of helping boys and their desires. We are meant to cover up because wearing something revealing will deem a woman trashy. We should always be quiet and reserved because only boys are allowed to be rowdy and crazy. Even in the workplace, women do not always receive the same paycheck as men because men are smarter and better at what they do. Why are women treated like this? More importantly, why do women receive this kind of treatment much more often than men? Though more often than not it is women who are the victims of objectification, men can be victims as well. Men can sometimes feel degraded by women or even other men; however, it is much more common to see a woman in this position than a man. The treatment of women has greatly improved over the years, but it is something that still needs to be addressed today. Women are strong, independent, powerful people, who are deserve the same respect as men. If women continue to stand up for themselves, there is nothing they won't be able to do.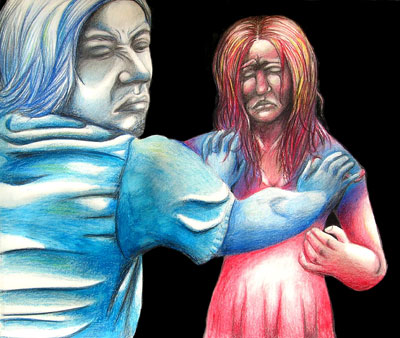 © Jessica P., Bethel Park, PA