My New Mom
April 30, 2018
"I don't want to hold up that many!" I whined, I had been absolutely distraught over the idea of holding up another finger instead of the three I held for what felt like my entire life. I have never been a fan of change. I don't like new people coming into my life; I didn't like not knowing what would come next, but I was on for a roller coaster ride that would change my life forever.

My mother had died shortly after I turned one. To save money, my dad moved my siblings and me into my aunt's garage. Inside the spacious two-car garage, we had an auburn leather couch with brass metal studs. Our bedroom walls had been constructed out of coarse, dingy, white plywood. It wasn't the most ideal living situation, but to me it was the bee's knees. The bedroom I shared with my twin sister, Abbie, had a door of hard, plastic, metallic, purple, Mardi Gras beads that thinned every time I skipped through them. Through my beaded door and walls as thin as paper, the pungent aroma of chlorine from our pool hits me as I overhear my dads faint conversation, but I didn't pay it much mind. I, oblivious, worried more about what Abbie wanted to play, asking, "Can we go play outside?" ignoring the fact that my dad was on the phone.

After roughly three years the day came when my dad declared, "We are embarking on a trip." We journeyed nine extensive hours through chiseled mountains to a little house in Waynesboro, Virginia. There, a lady, with a large smile revealing the gap between her two front teeth greeted us. Upon our arrival she had disclosed, "It is nice to meet you." My head sank down in shyness.

As she settled us in for our visit, I declared to her, "You talk funny." She didn't seem to take offense to it. Rather, she thought it was cute that I had said it. My dad remained with us for a couple of days as we became more comfortable around our new friend. He then left us with Jul for the weekend. Her house was filled with the scent of stale cigarettes and just big enough to feel cozy. She was the parent of a sandy-blonde furry dog-named Smoke, and Abbie attached herself to him within the first day. Abbie slept with him on his mustard yellow Redskins blanket that lay worn and linty. I on the other hand slept in Jul's bed along with her, cuddling up next to her, in her big, cozy bed for protection while I slept.

Trailing behind her around every day I grew to appreciate her, as Abbie stayed infatuated with the dog. I finally squeaked, "I miss my mom, so I am going to call you 'Mom.'" Knowing her barely at all and deciding she was here to stay. She was not like my aunt; she didn't make us go to bed at a certain time, nor care that we didn't pick up our toys right away. She was the coolest adult ever in my mind.

After returning home where my aunt showered me in kisses, and after months of talking to Jul on video chat, the time came where Jul moved to Ohio. We moved into an ashy gray house, a castle for me and my family. The back yard had a glistening blue pond and a gray deck where my dad and Jul were married in blue jeans and t-shirts. Abbie and I had been the flower girls; we picked the weeds and threw them at Jul after my Grandpa announced, "you may kiss the bride!" I don't think she knew exactly what she was welcoming into her life, but she was a perfect fit into my dysfunctional, large family.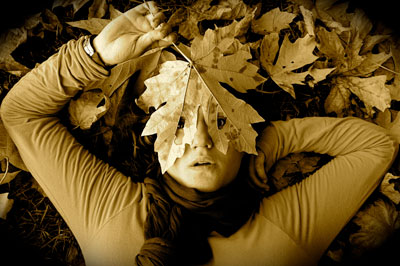 © Garrett M.