Volleyball
April 19, 2018
My greatest skill is playing volleyball. I have been playing since I was nine years old. I started playing in fourth grade when my parents wanted me to start a sport. I was a little skeptical at first, but during the middle of the season I started to like it, and now it is now my favorite sport to play. I was on my school's volleyball team in eighth grade. I had so much fun playing for my school. We played against all the other teams in our area. Even when we lost some of our games we were not sad, we still had a great time playing.
My whole family has a history of playing volleyball in middle school and high school. My aunt played her high school years just like her aunt before her. Almost all of my aunts played volleyball when they were younger and I hope that I can continue their legacy and play all of middle school and high school.
My first year of playing was a great learning experience, I learned the fundamentals of volleyball. After the next few years, I learned how to properly serve and set. My aunt was the main person who really made an impact on my volleyball skills. She helped me perfect everything and even taught me how to serve properly. If it weren't for her I would not be able to do anything I can do right now. Thanks to her I was able to help my team make it to the championships.

My favorite part of volleyball is the first serve of the game. You can hear the person serve and you know that it's game time. I enjoy serving and spiking but my specialty is setting. If my teammate needs someone to set them up for a spike I am always there when they need me. If a ball is coming back fast over the net I am not afraid of the ball, I go right to it and set another team member up for a spike.

Although I receive support from all my friends and family my biggest fan is my special needs brother. He encourages me to continue and shows me that no matter what I can always do whatever I want. When volleyball season starts all he ever asks is if I have a game today. He inspires me every day when I see his physical limitations. He can't do the things we can. His body can not support all the physical exertion that sports put on him. Every game and practice that I go to, I go to for him.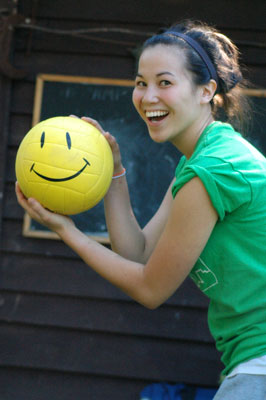 © Masaleen O., Palatine, IL