Ohana
April 17, 2018
As I sat in the St. Tammany General Hospital waiting room on Valentine's day during Mardi Gras holidays of this year with my family, I noticed all of the other families waiting for information about their loved ones. You could feel all the stress, sadness, and other emotions in the room.

My paw paw was having open heart surgery that we eventually would find out was a 5 bypass surgery with some complications. My whole family was their throughout the day and various friends stopped by. My family sat and talked throughout the day. We ate and even got ashes for ash Wednesday. We tried to make each other feel better as the day progressed.

When my paw paw was finished surgery and we were able to see him, we all took turns going into the CCU (cardiac care center). He was hooked up to a bunch of machines and only two people could go in at a time. This experience opened my eyes to the world around me as I saw other people with blankets and pillows preparing to stay the night with their loved ones.

My mom, dad, brother, and I live in Chalmette, so we stayed at my grandparents house with my mimi (when she went home) to keep her company and be there when our family needed us. Our one night stay there turned into three because we wanted to be there for our family.

My paw paw is recovering great and is starting to feel a lot better now. From this experience with my paw paw, I have noticed that my family has grown closer together. We talk and see each other more often and are trying to make the most of the time we have together.

This experience was not the first I have had like this in my lifetime. When I was about 4 years old, my older cousin Mickey, who was in first grade at the time, was diagnosed with Lymphoma. He had to under go chemotherapy which caused him to lose all his hair. Mickey wore headscarves on his head and my brother wore matching ones to be in solidarity with his cousin.

My brother's support for my cousin showed me early on in my life that family will always be there for each other especially in the hard times. It also showed me to be kind to other people and be empathetic of their situations.
My brother, Eddie, is two years older than me, but three years in school which means that he went to LSU for college my Sophomore year. While this was a difficult experience for my mom and me, it affected my dad the most due to not having his buddy to watch sports with all the time. Due to my brother leaving for college, my dad and I have grown closer. Although he still watches sports, he takes some breaks to watch The Voice, Dancing with the Starts, and LSU Gymnastics with me. My brother leaving has brought the whole family closer together because when he comes in we all want to spend quality family time together.

I have also noticed that hard times can bring families closer together in close family friends. This past year my friend's grandma (Gigi) was diagnosed with cancer. She moved in with his family, so they could help take care of her. Also, his family from Florida and Mandeville came in a lot more often to visit during this rough time in their lives. They spent quality time with Gigi during her last few days. She died and I have noticed that they have continued to grow closer. This experience has taught me to never take anything for granted and that people who are going through the same thing can help you the most.

I have also learned this through my own experience this year. I had surgery over the thanksgiving holidays to remove a fibroadenoma, which is non-cancerous tumor. This was very scary for me because I would not be able to lift anything over 5 pounds for 2-3 weeks after and could not do extensive physical activity for a month. I needed people to carry my books around school, take the elevator, and I could not practice for Carmelettes for a while. While this was a difficult time for me, I knew I was never alone. All of my family sent millions of texts and calls to see how I was doing and asking if I needed anything. My friends helped me and supported me through the entire thing as well. Being on the flip side of the equation for once, showed me that I was not alone in my experience at all. Everyone was there to help me.

I hear about some hard times that my family faced even before I was born or that I can barely remember about my Granny. My Granny was diagnosed with ALS (Amyotrophic Lateral Sclerosis), also known as Lou Gehrig's disease, before I was born. 3The diseased cause my Granny to be dependent on others. She was in a wheel chair and slowly lost control of her muscles. My mom, her sister, and my paw paw did everything they could to take care of her and make her comfortable. My Granny died when I was three, but her member will always stay with me because it is the first time I remember how our family stood together through hard times.

When hard times occur in life, many times it brings families closer together. People lean on each other in times of need especially when they are going through the same thing. With your family, you know you will never be alone.
Like they say in Lilo and Stitch, "Ohana means family, and family means no one gets left behind or forgotten."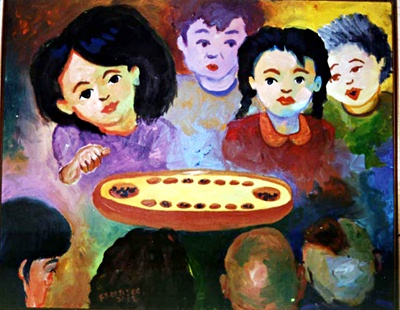 © Fransisca A., Surabaya, Indonesia