The Road of Life
April 12, 2018
"Hey! Over here!" I called out. My mom walked over from where she had been looking through the racks on the other side of the store. She peered at the dress I was holding up on the hanger. The two of us were shopping for a white dress for my middle school graduation. The one I held had white lace covering it, and it had an intricate design around the neck. There was a pile of white dresses draped over my mom's arm. We had been shopping for an hour, and there were too many white dresses to choose from.

"I like it," my mom answered after a couple of seconds. "Do you want to keep looking?" I glanced around the store, searching for any place where we had not looked.

I declared, "I'm pretty sure we have looked at every single rack in this place." I was getting a little tired, but my mom still looked energized and determined. Knowing that we were pretty much done searching, I took the dresses from my mom and began to arrange them. My mom started to help me untangle the ones that had gotten caught on other hangers.

"Do you want to try all of these on now?" she asked.

I nodded and walked into the dressing room, the multitude of white dresses in tow. My mom waited patiently outside the fitting room while I started to try them all on. After a minute, my mom called to me, "I'm just going to look in another area right here that might have more white dresses."

"Okay!" I responded. I continued to try on everything I had picked. There was one sleeveless dress I loved that had a white lace overlay. I walked out of the dressing room with my favorite dress on, hoping that my mom would like it as much as I did.

"Mom?" I said. I scanned the store. I knew that she had been looking in another area near the fitting room, but she must have went to look somewhere else. I went back to the dressing room, changed out of the dress, grabbed my stuff, and started to search for my mom.

After a couple minutes of looking, I circled back to the fitting room. Then, I spotted two people by the door to the store within eyeshot of the dressing room. I recognized my mom and I headed toward that direction. I realized that my mom was helping an older man who had dropped some of the things from his bag. She was crouching down and picking everything up because he could not lean over himself as he could not walk very well. My mom finished collecting his things and handed the older man's bag back to him. By that point, I had reached them.

"Thank you," the old man commented profusely.
My mom asked, "Do you need any more help?"
"No, I'll be fine. Thank you so much," he replied. He slowly started to make his way out of the door.
"Who was he?" I asked.
My mom answered, "I was looking at that area of clothes by the fitting room while I was waiting for you when I saw that man drop his things. I knew that he could not pick his things up by himself. Did you find any white dresses that you liked?"
"Yeah, I did," I responded. "I can go back and try on some of the ones I liked for you now if you want."

"Okay," my mom said. As my mom walked toward the dressing room, I thought about the things that she had picked up for the elderly man. That small thing that she did for that older man showed that she was an amazing and selfless person. My mom always cared about others, whether it was my sister and me, or a complete stranger. She would open doors for people wherever we went.

Throughout my life, I had always looked up to her for her kindness and generosity. She was my role model, and I was constantly seeing her helping others just because she wanted to do so. I walked with my mom back across the store to the dressing room with the dresses in hand. I knew that no matter what, my mom would always be my rock. She would always be there for me, helping me and guiding me along the road of life.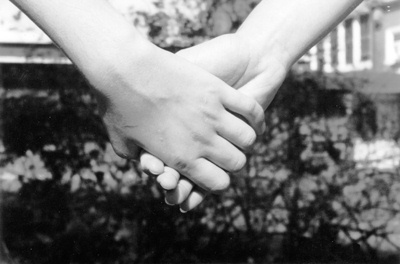 © Lauren G., Pompton Plains, NJ