The Butterfly Room
April 12, 2018
During a mission trip to Mexico, I heard plenty of incredible stories. My favorite of them all is one about a butterfly room. In the orphanage that we were working on, we were given a tour of the rooms. Each room was being sponsored by a person or a group of people who decided the theme. During the middle of the tour, we came across a beautiful room covered in vibrantly painted butterflies and flowers. The pastor in charge of the orphanage, Steve, began to explain the story of the room to our group. A man had come with his wife on the mission trip a few years back. He had no desire to be on the trip, and he'd let you know how he felt. He went up to Steve,, and he angrily told him, "I don't want to be here at all! I'm only here because my wife forced me, so don't think for a second that I want to be here." Then he stormed of and left Steve standing stunned.

One activity Steve required everyone to do on the mission trip was walk around the wall that surrounds the orphanage at least once. This was time for each person to reflect and talk with God about anything they needed to. For some reason, this angry man decided to take the walk. He began to walk the perimeter, not praying or reflecting like he was supposed to. He continued to wander until he spotted something out of the corner of his eye. It was a bright, beautiful flower that had somehow beaten the odds and grown in the harsh desert climate. He stopped to look at it in amazement when suddenly a Monarch butterfly landed on his hand. It amazed him that he had somehow stumbled upon those two beautiful and rare lifeforms in the middle of the desert. He stared at it for awhile, then when he tried to shake it off it wouldn't budge. He looked closely at the butterfly, trying to figure out why it wouldn't simply leave him alone. Then a wave of relief washed over him because he knew exactly what this butterfly was and why it was clinging to him. He was so overwhelmed with relief, but also sadness, that he began to cry. He then ran back to the orphanage to share his experience with everyone else.

The reason this man was so angry was because months before the man and his wife had left for their mission trip, their 5 year old daughter had passed away from cancer. The man had been struggling to understand why his little girl had been taken from him and his relationship with God had been nonexistent ever since. He used to call his daughter his little butterfly, so this was a sign to him. It meant that his daughter was up in Heaven and it helped restore his love for God.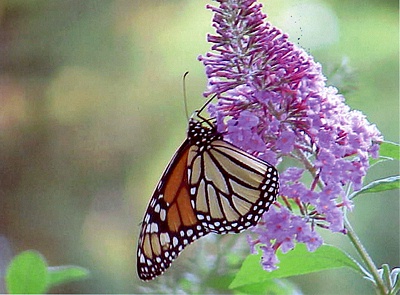 © Nathan P., Scotch Plains, NJ