The New Beginning
April 4, 2018
Today is the day that my family has been waiting for, for the past month. Last month I lost my best friend, my dog Max. Max was a 9-year-old mastiff who stole my family's heart when he was only a pup. Sadly, for my family and I, big dogs like Max have bad hearts and are prone to cancer. Both those are the reasons for his death, cancer, and a heart attack. Max left the world while he was sleeping one day, the best thing that could have happened for him, but the worst thing that could happen for my family. My family knew that Max was near death, but we wished he would never leave us. My dad thought that once he did die, we would never get another dog again. However, we knew we would have to get another dog someday, and that leads to the story of the journey of Marley and Mocha.
Roughly, 2 years ago, a month after we lost our dog Max, we went on a salmon fishing trip that would change our life forever. On the trip out on the lake, we caught a little amount of salmon mostly because the weather was not good at all. My family and I were disappointed at what the results of the charter were. We just decided to head back home with the small amount of fish we caught. During the car ride home, my family started talking about the next goose hunting season that would be starting a month later, but it happened to be that while we were talking, my brother got a notification on his phone. Cody told my family "there are a cheap litter of pups for sale in northern Minnesota and they are a lab/border collie mix." Cody showed my mom and me a picture and we both immediately fell in love. My mom wanted the puppy and when she wants something; she gets it. After taking lots of encouragement, my dad said we could get another dog. My brother immediately texted the breeder and they said they had one black pup left that we could have; of course we said we would take it. We never knew what would come next.

Three weeks later, my family and I loaded up and headed up north to Brainerd Minnesota to get our new hunting puppy. It seemed as if we had waited forever to go up and see our puppy. The car ride was 4 hours, but it felt like forever, we all filled with excitement. Once we got to the breeder, my family and I went to the back yard to see, our puppy, what we saw amazed us all. The back yard of the house was full of little pups, a big Labrador retriever, and Border collie; it was as if we were in puppy heaven. The woman showed us our puppy; I was the first one to hold her. The rest of my family immediately fell in love with the puppy and could not wait to bring her home. I wanted to call her boots since she had white paws like boots, but my mom named her Marley, a black dog with a white belly. My family and I thought we were going to go home but the owner called my dad over and talked to him in private. I guess they talked about another puppy. It turned out that one of the clients had backed out and there was no one to buy the little brown and white pup. After our family discussed, we decided to take the other pup so her sister would have a playmate, which turned out to be the best decision we ever made. My mom decided to call her Mocha from her coffee looking brown fur. Taking Mocha and Marley home started the journey of my family's new life.

My family brought the two puppies back to their new home. The two girls loved it immediately; there were no fences and both of them were free from all other dogs. Mocha and Marley could live however they wanted wherever they wanted. Everyone who came to our house fell in love the pups immediately. The two little pups changed my family's life. It is hard to say, but the journey of Mocha and Marley makes my family happy every day.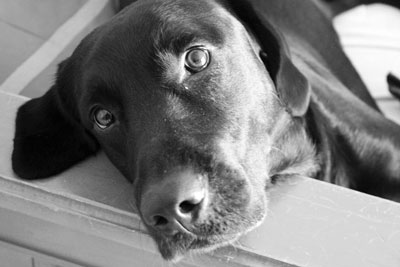 © Lindsay L., Snohomish, WA