Holidays
April 4, 2018
Holidays are the main times to see both sides of my relatives. Some families go somewhere for the holidays, some stay home, some make huge diners. My family's traditions are the same yearly, except for one, which has changed slightly.

At Thanksgiving, my mom, dad, brother and I go to my dad's side of the family, my grandpa's. When I was in 2nd grade, my grandma got in a car accident only miles from their house. At the time, I was in school. I was checked out of school by my parents, and brought me to my church that I go to. My mom, dad, brother and I, got to church, and we immediately saw our pastor. He told us the news. As he told it, my brother and I went into tears. Both my parents had a sad face on, with a couple of tears rolling down the side of their faces. Since then, holidays/get-togethers have never been the same as before that incident.

However, Thanksgiving is still good, although it would be better with grandma. At my grandpa's house, my uncle, aunt, dad and mom all get the dishes prepared for the feast. Everybody comes in family by family. Every one of them bringing in a dish or a desert. When the final family comes, and the food is down stairs, we say grace. When we are done, we dig in, the little ones first. In the background, either the packer football game if they play, or a movie for the little kids, even though some older kids watch it too.

Christmas is a little different. We have Christmas with my mom's side at my uncles, usually on Christmas Eve. We have time before the dinner is ready, which is usually ham, which is spent playing PS4 for the kids and talking done by the adults. We have dinner, with a Yule log for desert, and relax until it is time for opening presents. The kids get the most, with our grandma getting something from her kids (my aunt, uncle and mom.) We usually take a family photo, which consists of my cousins, aunt uncle, grandma, grandpa, and my family.

Christmas at my dad's side happens in January. We go for a weekend everybody can make it, which is quite hard. My brother and cousin have basketball tournaments on the weekends, so it is rare when we get a weekend off. However, when we do, we take advantage of that.

We leave on the Friday before the weekend, get there Friday night and rest up for Saturday. We usually have Saturday to rest up; get some groceries for Sunday's brunch. When Sunday comes around, we get up at about 8 and start cooking right away. We get eggs scrambled, French toast in the oven, pancakes on the griddle, bacon on the stove, chocolate melting for the chocolate fountain. Every family comes in one by one usually with their desert. When everybody is there, we say grace then dig in. In the back round is usually a football game or movie. My brothers chocolate fountain on the desert table, usually the main desert attraction.

When everybody is getting down eating, people grab their presents for whomever it is for. People stay in their spot, and are delivered their present. Little kids unwrapping theirs just like Christmas morning. When everybody's gifts are brought out, that is about the time my family leaves for home.

Easter has been a little different in the past few years. It started 3 years ago, when my family hosted my mom's side of the family. My grandma is usually the first one there. Followed by my aunt, uncle and grandpa. We put our dishes we made for the day on the counter. We kids go downstairs and play ping-pong or foosball. We are called up when everything is ready, say grace, and get to eating. The kids go to a table in the living room, and the adults use the kitchen table.

After everyone is done, or mostly everyone, we get our trap shooting stuff ready. We grab 12 gauges, 20 gauges, shells, clay pigeons, launchers and ear protection to the downstairs basement cement in the back of the house. We set up the automatic launcher that needs to be refiled after each launch. We usually go two shooters at once, with each being side by side and other people waiting to shoot behind them. The launcher launches a clay pigeon, and the person assigned first get the first crack at it, then the second person goes if they miss their shot. If the first person hits the pigeon, then the second person goes first and the next person in line goes.

This goes on for an hour or two, using four or so boxes of shells, and a box of clay pigeons. Eventually, everybody leaves, leaving simply my family to pick up after everybody, even though they are usually pretty clean. We pick up all the shells, broken clay pigeons still in the yard, and the launchers. That is usually the Easter day for us.

Each of these holidays for my families have different traditions. For me, it is the same every year, which does not get old. Each traditions gets better and better each year for some reason, I don't know why. I wonder what new traditions my families might come up with in the next coming years.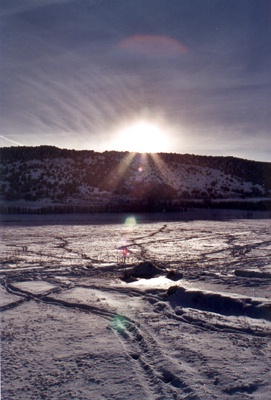 © Brandon T., Manila, UT