40 Years and a Break
March 20, 2018
I think my parents are done with parenting.
In April of 1977, when my mom was 24 and my dad was 25, they had their first child—a daughter. Their second daughter was born the following September. Then 18 years later, just as their eldest was graduating high school, they had another daughter in 1995. I was adopted in 2002. As of now, they've been parenting for 40 years.
In that time, my parents faithfully played the Easter Bunny, Tooth Fairy, and Santa Claus. They nursed every fever and comforted each of us in the middle of the night. For four decades, they have driven nonstop to and from recitals, dentist appointments, soccer games, Girl Scout meetings, softball practices, physicals, band concerts, and tournaments with barely enough time to breathe at the end of the night. They looked for lost stuffed animals, suffered through every episode of Sesame Street, helped with homework, chaperoned field trips, packed lunches at 6 AM, paid for braces, and worried about college tuition.
Then, three weeks ago, I was running at the gym next to two men likely in their 40s. One of them was talking about his wife's first IVF treatment and all the trouble they had getting pregnant.
"If this doesn't work, we'll probably stop trying," he said.
The other guy paused. "Hm...What about adoption?"
"We looked into that, but it takes too long. I don't want to be one of those 50-year-old dads. I'll be 70 by the time the kid graduates."
If I followed through with my initial reaction, I would have piped up to counter every point he had made. After all, I'm adopted; my dad will be 67 when I graduate, and my mom will be 66. But, as my feet pounded away, so did my thoughts.
Was there validity to his argument? Of course, mothers and fathers will always be parents, but there is a point when no one reads Goodnight Moon before bed, no one peeks into the bedroom in the middle of the night to give a kiss, and no one cares enough to meet the teachers at Back-to-School Night.
It's hard to blame people who don't want to be 70 by the time their kid graduates. By 70, there may never be a chance to see grandchildren. There's worry about financing a child's four-year degree when retirement income is already slim. There are health problems that demand weekly doctor's visits. There's a tiredness that stems from merely existing for so long.
Last Thursday, as she was bailing on the gym, my mom sank down onto my bed.
"I'm exhausted. I haven't had a chance to sit down all day. I could barely even make it up the stairs. How about we go tomorrow night?" she offered.
I looked at her and saw 40 years of parenting on her face. In a mere six years, she would be the 70-year-old mom—retired, stress-free, possibly bored. What would my parents do once I leave for college?
Religiously read the AARP magazine while having oatmeal and tomato juice in the morning? Buy a house in Ocean City or a timeshare in Florida? Convert into full-time grandparents who keep a crystal dish of hard candies on the mantel?
These scenarios are all possibilities, but I'm not worried about my parents turning into the run-of-the-mill old couple. I'm concerned about the guy at the gym who didn't want to be a 70-year-old dad because he fails to understand that age doesn't matter; love does.
Four kids later, and I could call my parents experts. They have a wealth of knowledge nonexistent in parenting books or advice columns. In a couple more years they'll finally be empty-nester, but they'll never stop being parents.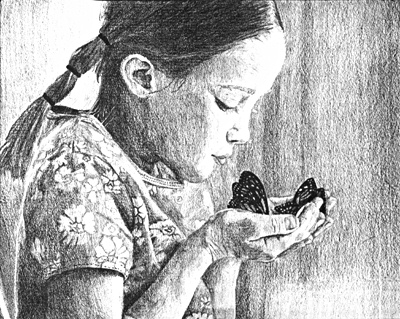 © Alina L., Holland Patent, NY