Mary.
March 16, 2018
My sister held my hand tightly. Silently we hid in the hallway, too frightened to peek out from the hiding spot, slowly turning into the shadows ourselves. "Is she gone," I asked. My voice was shaky, hardly even audible. My sister shook her head. She was not. The closed railing rattled as she tried to break through, but we knew she was unable to get past. We would stand there until she went back. We were shadows until someone would help us, until someone would find us. We waited silently in the corridor until my mom would open the front door and find the woman trying to break through the black metal gate that protected us, and help her back downstairs to her room.

That was not the first time. The first time we were unaware of what would happen, so we left the gate unlatched. She slowly made her way up the creaky floorboards and my brother would bust his way out of his room and take the leap into ours with concern across his brow, "She's coming up the stairs!" He yelled, although his voice a whisper. She shouted loudly, louder than the roar of trumpets and the screech of the horror movies my father would take me to. The only thing she yelled were question. My sister and I, we hid away, alone in the corner once more. My brother, ever brave, was the one to step out from the darkened room. He knew her the best, "G-Go back downstairs." Questions. Shouting. We listened from the comfort of our room, heartbeats accelerated until they drummed louder than her voice, until the filled our ears entirely.

"Why is she here?" My sister would ask.
"You couldn't begin to understand," my mother replied.
"Why not?" She persisted
"Because it's our responsibility," she scrubbed hard at the dishes, making sure they were clean even before she put them in the washer.
"She's not our family."
"She is now," my mother explained.
"Why?"
"You know why," and the conversation was done.
Eventually it got easier. A new woman would enter our house. We were thankful. The woman kept her at bay. With her around we knew it was safe, we knew we wouldn't have to lurk in the shadows for the most part. But the woman wasn't around all the time. We would hear yelling from downstairs, but we were all too scared to open the gate. Too scared until the woman came from far away, opening her door and finding she had collapsed on the floor. The woman screamed bloody murder at the three of us. "YOU THREE! DO YOU NOT CARE ABOUT ANYTHING? YOU'RE SELFISH. YOU'RE STUCK UP. YOU'RE DISPICIBLE BRATS. DO YOU NOT CARE?" My sister held my hand tightly, tears dripping down both of our faces. My brother spoke for us, but our heartbeats were louder. I could never remember what he said.
We spent the days in our room. We didn't know what else to do. The woman who once helped seemed more malignant to us than anything, and all we wished for was to be free. We played basketball, and rode our scooters down to the baseball park for games. We stayed out of the way in order to not be the problem.
My sister and I sat alone in a room, an hour away from my home, visiting my dad when she got the call. My uncle rang my sister on the phone while I sat behind her trying to listen in to no avail. "What is it?" I asked after she hung up. She didn't speak. "What is it?" Again.
"Something bad happened," was all she said. I hadn't heard, but I knew. My dad opened the door to the room without knocking, the same look on his face as was on my sister.
"Is it her?" I didn't have to ask.
"Yes," my dad simply said.
We all sat at a dinner table with my family and my mom's closest friends, the three of us peeled off to the side.
"Do you think it was our fault," my sister asked.
"No," my brother was quick to answer.
"No," I repeated. I wasn't sure.
"RAYMOND, Mary (nee Markowich) – 86, of Franklin Lakes passed away on March 4, 2012.
Born in Brooklyn, New York she lived in North Haledon before moving to
Franklin Lakes 2 years ago.
Prior to her retirement she was an Executive with Macy's in New York City.
She was a member of the Ukrainian Orthodox Holy Ascension Church in Clifton.
Mary was known for her loving and caring heart towards her family and friends."
12. I was only 12.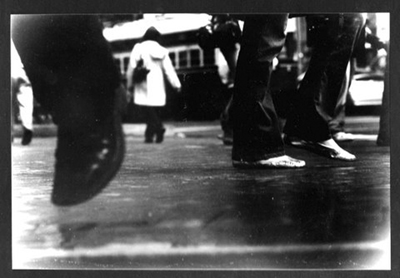 © Alex B., Bethesda, MD