The Hidden Language
March 15, 2018
It was a new Monday morning, and it was freezing. After a fight in my mind, I reluctantly dragged myself out from bed, trembling as a swoosh of draught swept by. Even though a beam of light penetrated through the thick cloud and heated my sullen heart, I still could not let go of the chaos I had been through the week before.

The weather was still warm a week earlier. Back in the 9th grade, students were fighting for the big test for which everyone stands only one chance in a whole year. Naturally, teachers would assign abundant homework and students even studied at night. As the monitor of my class, I was responsible for maintaining discipline, especially during self-study at night. One of the proudest thing was that I normally kept the discipline well, and I usually made few mistakes. That Monday, the homework was overwhelming-a paper for Chemistry, two papers for Physics, and a paper for Math…. In order to finish my homework on time, I concentrated on it completely. The only thing I could hear was the rustling of the pen and paper. Finishing the Chemistry paper, I kneaded my aching hands. I took a quick look around the classroom to see if the class was out of order and saw our Geography teacher. Thank God! There is a teacher keeping discipline. I buried my head back in the homework. At the time, I did not realize that things were not going as well as I thought they were.

Next day after one class, the Math teacher, also our homeroom teacher, called me to his office. He patted my shoulders and looked at me with a sense of anxiousness. He tightened his mouth and asked, "Everything going on well recently?"
Did he mean that something is NOT going on well? My teacher asked me a question in such an indirect way that I narrowed my eyes and quickly went through all possible things that might have gone wrong. Did I forget to do my homework, sleep in class, or talk with others during the class? No, I didn't. So, I hesitantly shook my head and replied, "No, I guess?"

The teacher frowned and said, "Well. I hope that you are all right. You are dismissed." I quickly left the office with a fast heartbeat because of this awkward conversation.

After school, on my way to home, the sun dimmed everything including my mood. The sporadic rustling sound of the branches along with the faint mew of cats got me goose bumps. I unconsciously walked faster and tried to pull my coat together, before realizing I did not wear a coat. As I was trotting, I still pondered the teacher's question. What was his intention? Obviously, teachers don't invite a student to their office and have a serious conversation just to be friendly by asking "if everything goes on well." But what went wrong? I do not have a disease, and my parents did not divorce. Finally, I scratched my hair and stopped thinking about that question. After I saw my home, my refuge for today's puzzle, and my eyes were shining with a light of relief.

As soon as I entered the living room, my parents seriously asked me to sit down on the coach. The aura was so tense and quite that I could even hear my heartbeat. What had I done? The sweat soaked my T-shirt, and my breath became heavy.
"How was your school today?" my father asked.
I puckered my lips and replied, "Not so good."
Then, my mother stepped in and solemnly asked, "Does anything go wrong at school?"
I frowned and asked, "What is this conversation about?" What was happening today? Why did everyone keep asking me evasive questions? Was I the only person that was confused? I stroked my chin and stared at my parents suspiciously.
Trying to find out from their faces the answers to my confusion, I saw nothing but two placid faces. They did not answer.
I was more confused. I sighed, "What are you doing? What was your intention?" Again, there was no answer, and the air was again tense and quiet. Eventually, I decided to ignore my parents and began to shake my legs with my patience worn out.
Disappointed at my response to their questions, my father stood up, putting his hands on his waist, and said, "I understand you are defiant sometimes, but taking responsibility is the baseline for a man!" My father frowned with an accusing look.
My mother was even more agitated. She jumped up from the coach, pointed at my nose, and exclaimed, "Let me tell you what 'good' thing you have done at school! How can you be such an irresponsible person? At school, you did not…"

My father suddenly pulled her back, and my mother ceased talking immediately. At that time, I realized that I have made a mistake, but I still didn't know what kind of mistake I made. I bubbled, "What kind of mistake did I make? I don't remember that I committed to a mistake."

Just before I was about to ask my parents what kind of mistake I made, my father cut in, "Just go to your room and prepare for your Entrance Exam."

I closed the door and jumped on the bed. Confusion swallowed me. I was like an encaged lion, effortlessly endeavoring to escape-to find out my mistake. I curled up in the bed, pondering the meaning behind those evasive questions. The confusion lingered in my mind for the whole night.
The next day, the weather abruptly became chilly. I felt cold deep in my heart as I continued my whirlpool of deliberation. I could not focus on class. When it was my turn to answer the question, I had to stand up in silence and looked down to avoid the disappointment in the teacher's eyes. I tried to forget the previous day's questions, but they remained with me. When I did not know what my mistake is, how could I even do anything? In the past, I seldom made any mistakes as a monitor, and even if I did, I would correct it immediately. However, this time, I not only made some unknown mistakes that was still unknown to me but also couldn't correct it.
It was not until Friday that the Math teacher called me to the office again. Everything started here, and now I was back. The teacher looked at me for a while, with regret, which I barely noticed in his eyes. He sighed, "Have a seat." Now, I was even more confused. The teacher put his hands together on his legs and hesitantly said, "I have noticed your performance in classes, and I have already talked with your parents."

Instantaneously, I opened my eyes widely. My mind was puzzled. My hands were stretching my shirts, and my teeth bit my lips tightly. Then, a deeper sense of confusion arose with a new sense of tension. Again? What was my mistake this time? Was my mistake so severe that the teacher had to withhold the truth? I slightly shook my head and stared at the teacher. I finally stated, "Can you please tell me what my mistake is?" I was so tense that I barely realized that my voice was trembling.

The teacher patted my shoulder and murmured, "I need to apologize."
He then continued, "On Monday, when you were doing your homework, you forgot your duty to keep the discipline, and the teacher that night told me that students were chatting instead of learning. However, because the High School Entrance Examination is close, and everyone has only one chance, I do not want to disturb your study. As a result, I indirectly mentioned your mistake. On one hand, I did not want this incident to influence your preparation for the test; on the other hand, I thought I could remind you of your mistake in a roundabout way. What I did not expect was your confusion towards my language. I believed you must have been confused for a week. My apology."

A sense of ridicule arose in my mind. The whole thing felt like a joke. Such evasive language caused unnecessary confusion and fear in me. Why didn't the teacher explain my mistake to me explicitly so that I didn't have to guess the true meaning behind it?

"I specifically told your parents to mention the mistake to you indirectly. I emphasized that they must not interfere with your imminent High School Entrance Exam. But last night, your parents talked with me on the phone with significant anxiety. It was not until last night that I realized things had gone wrong." The voice of my teacher broke in on my thoughts.

Now, I had all answers to my recent confusion. The fog that surrounded me finally disappeared.

Standing beside the window in my room, I looked at the beams of sunshine penetrating the thick clouds. I suddenly understood something. It is common for people to use evasive language to avoid awkwardness. Many of us who speak such hidden language hope that the language can prevent direct confrontation and embarrassment. However, the evasive language only obscures the true meaning. Even worse, such evasion can unexpectedly damage relationships. The evasive language is like the thick cloud, providing gloom. On contrary, direct expression is like the sunshine. It may be dazzling at first, but eventually you, and those around you, will fell warm and comfortable.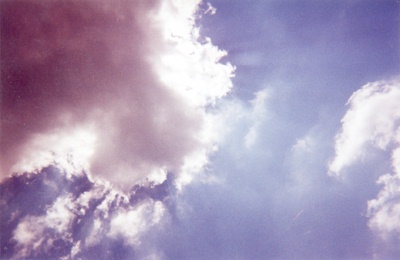 © Kena A., Huntsville, AL