CrNewsies of New York
March 2, 2018
I sat down exhausted from the day I just endured, what to do now? I sigh softly as I pick up my phone. I go onto Netflix and search for the one thing i've been wanting to watch for a while now, Newsies: The Broadway Musical.
I hit play and from that moment on something inside my heart changed forever.
I watched intrigued as the show started and the overture played. Then I continued to watch with wonder as the talented broadway cast made a story unfold before my eyes. A inspiring story about friends, family, and fighting for what you believe in.
The story I was witnessing was the Newsboy Strike of 1899.
I fell in love with everything I saw.
The lovable and relatable characters of Jack Kelly, Davey Jacobs, Crutchie, Katherine, and all the other newsboys. The songs all the way from Santa Fe Prologue to Finale. The dance numbers such as Carrying the Banner and King of New York. But most of all I fell in love with the story of the newsies and their fight for their rights.
I was in their world now.
I grew connected to the characters as I learned their tragic backstories. Orphaned kids without a cent to their name no older than seventeen working on the streets to earn what? A dime per paper and somehow making a fine life and a living out of it.
I became inspired by their story. Young newsboys going from working on the streets of New York city to organizing a union and going on strike against the newspaper giants, Joseph Pulitzer of the New York World, and William Randolph Hearst of the New York Journal.
Before I could even notice I happen to find that these newsboys had stolen my heart.
I had fallen hopelessly in love with a musical! A magnificent musical about dirty little street rats turning into heros by just fighting for what they believed in and not giving up no matter what they faced.
Newsies The Broadway Musical had become one of my all time favorite musicals! And I loved it! It taught me that no matter who you are you can fight for what you believe in and if you try hard enough and don't give up you can even win.
Newsie The Broadway Musical has taught me that I should seize everyday with a newsies spirit!
One day I hope to find more musicals that make me fall hopelessly in love with them.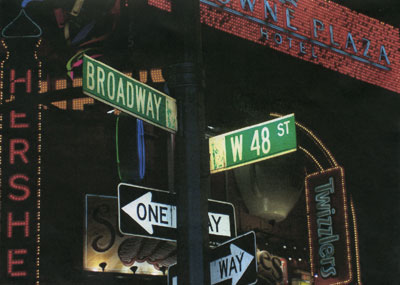 © Kaitlyn S., Milford, CT