The Girl
February 23, 2018
My name is Josue and I've never had a girlfriend, perhaps its because I'm pretty short for a 17 year old and have the appearance of a 14 year old boy. I'm a junior and I'm in the band, during football season I go to every game on Fridays and march. I have a decent sense of humor at least that's what people tell me.
It's true I've never been in a relationship, although I can be pretty flirtatious and I enjoy making people smile. It was never my intention to actually win someone over. It was the last football game and the girl in front of me began to tell me that she was going to break up with her long time boyfriend. I didn't think much of it, she is cute but she is definitely out of my league. I spent most of our time in the stands talking to this girl, I had a good time conversing and laughing at all the weird people in band. I thought that this was a one time deal that I wouldn't talk to her again, just be friendly to her but I didn't think that we were actually friends.

The next week I went to the restroom during band and left my phone in a practice room. I was later told that the girl and our mutual friend, Grace, entered the room and saw my phone laying there. By the time I had returned they had left the practice room and I checked my phone, there was a notification that said that the girl had added me on snapchat. At the time I was oblivious to her intentions.

Grace confronted me after the bell rang. She asked, do you like her? I didn't respond. Grace smiled and said, so yes. She proceeded to tell me that I should talk to her. I told her that I wasn't sure. I asked, what if she doesn't like me? Then I asked, does she like me? Grace responded with, would I ever set you up for failure? My face was a solid cherry red, which is saying something considering I am a nice potato brown.

In fourth period I get a snapchat, it was from the girl. She made an attempt to start a conversation, I continued the conversation with pleasure. We talked all day. That day was a good day. We had messaged each other for about three consecutive days. I told her that we should hangout sometime. So that Thursday she suggested we go to lunch. We went to lunch, we laughed and listened to the most romantic music, Kendrick Lamar's "m.A.A.d. city". Which is now one of my favorite songs.

We went to lunch Friday and the next Monday, I think, I'm not sure but I do know it was the 13th of December. December 13th was the day I had my first kiss. I was holding her hand, I looked her in the eyes and leaned in. That was one of the best feelings I've ever felt. We did the same thing the next day, the day after that she had to take a test during lunch. We didn't go to lunch for the rest of the week. We kept talking, I had made us a playlist. Most of the playlist consisted of lame romantic music but I did include "m.A.A.d. city". She loved it.
The Saturday of that week I was working with my dad and I hadn't received a text which was odd, it turns out that her cousin had attempted suicide and the girl had spent most of the day at the ER. The cousin suffered from depression, I knew the girl was depressed too but, I never really noticed it until this. She told me she had some dark thoughts sometimes. I was supportive and I let her know that I cared.

Everyday we talked less. Every minute felt like an hour, every hour felt like a day. It's stupid, teenage relationships are dumb. I acknowledge the stupidity yet I still wanted to be together. I felt a hole that longed to be filled. After a few days I gathered the courage to ask her, is this "thing" we had was going anywhere? She told me we should take a break.

At that moment I felt every negative emotion. I felt devastated, confused, angry, and sad. Questions swarmed through my mind like an unkindliness. I asked myself, where did I go wrong? Why did she waste my time? Is there someone else? The sea of emotions drowned me, I couldn't rise above it.

The next day we talked in person. She kept saying, sorry. I didn't want an apology. We were in a practice room alone talking when one of her "friends", someone who she talks to but doesn't really like, told me to leave. The "friend" told me that the relationship was over and I should just leave. I, broken, snapped. My exact words were, Get the f*** out! I don't care what you have to say, I only care what she has to say.

The girl told me she had to focus on soccer and school. I told her that if she really cared then we could stay together. She just kept saying, sorry. She was genuine but that didn't matter to me. I looked her in the eyes and the last thing I said was goodbye, my voice was broken, I was holding back tears.

It was Christmas break, I had done nothing but think of her, I was miserable, and I was desperate. During the break I never once picked up my phone and talked to her. I didn't text, snap, or call her. I respected that she wanted a break. I had isolated myself from everyone, I went into a depression.

Back in October of 2017 I had promised to help out at a retreat for freshmen at my church. I decided to help because I enjoyed my retreat when I was a freshmen. Well in January of 2018, the retreat was held and I got to reconnect with a friend I had made at my retreat, Sebastion, he had also signed up to help. At the 2018 retreat we became better friends, bonded, created a few inside jokes, and laughed a lot. We began to talk about some personal issues, coincidently we were in similar situations. Sebastion encouraged me to talk to the girl.

Once I got home from the retreat I hopped on my bed and I texted the girl. I asked her, what's up? She told me she was focusing on school and soccer. I was a little hurt when she said this but I was persistent. I told her we should be friends and maybe one day we could be a little bit more. She liked the idea of being friends.

Now we talk everyday, I've helped her through some tough times, and she's calmed me down when I thought I was going to lose everything. I know that in her heart she knows that I'm good for her, but alas we still aren't together. I'm being patient and a good friend, but it's hard. But I know its going to be worth it.

In the end I may not have found love, or the one, but I have learned a lot and benefitted from this experience.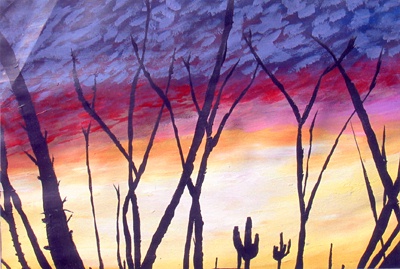 © Kassia C., Phoenix, AZ