An Unforgettable Day
February 21, 2018
The world is full of long highways and tragic accidents. This is about my accident containing emotions of sadness, happiness, and the motivation to be able to get up from a fall.

The day began like any other day, warm and full of light. It was August 28, 2016, a Sunday, a day made just for Jesus and his loving sheep. What a fabulous day that was, full of the fruits of wisdom, and like every Sunday after the service we would stop and get lunch. As we started down highway 380 that Sunday morning, a driver of 15 years, myself, had taken off heading to church. The drive was smooth and calm, keeping the speed limit at about 65 miles per hour and stopping periodically at every stop light. As my family and I arrived at church, I began to wonder what the message would be about...Philippians, Revelations, Colossians...everything kept running through my head until we walked through the doors, realizing it was the beautiful book of Romans. As we sang our songs and said our prayers, the pastor began to preach on strength and wisdom. To not hold onto pride but rather have enough strength to be humble and enough wisdom to not be insecure. We ended with a hymn then held hands and closed as we prayed. We left and said our goodbyes, eager for lunch.

My parents asked me to drive, since I had to practice for my license to Sam's Club to pick up some groceries. We made our way in and out with delicious and rather large amounts of food. Excited and ready to get home, I backed out of my parking spot and began driving down the highway again, a straight, windy road home. The sun was hot that day but there was a beautiful,calm breeze. As I drove, my father started to instruct me on my turn signals, and, of course, the "looking over the shoulder" technique. Only twenty minutes away from home, I began to change lanes, and on the third and final lane change, everything started to crumble. I was looking over my left shoulder as we rounded a slight curve. Suddenly, I felt gravel, followed by an abrupt drop-off in the grass, which caused the car to tilt. As I felt the car tilt, I steered back onto the road. I tried to re adjust the steering wheel, but it became jammed and kept steering to the right. I was so scared I kept trying to pull back on the road, but the steering wheel wouldn't budge. I kept pressing the brakes, but it was too late.

Everything seemed to start fast, then it suddenly felt like we were in slow-motion. The car rammed into the ditch and then rolled over and over again, causing the windows to crack and the top of the car to snap. As we stopped, no one moved or said anything for over 20 seconds, then my mom began to say, "Just breathe; everything is okay. We are all okay." Those words I will never forget...so comforting and close to my heart forever. After that, my younger sister began banging on the windows, trying to break the glass to get out and find help.

When the accident happened, my family and I were in a 2008 Chevrolet Suburban, eight- seater. I was the driver and my father was in the passenger seat. My mother was behind my dad in the second row, and my younger sister was behind my seat.

As my sister banged on the window, we heard cars drive up and people get out to break windows and throw in towels. Little did I know at the time that my life would be changed forever. As I looked up from being trapped in my seat, I saw my dad hanging above me with the blood dripping from his head onto my neck and hands, warm and very dark red, somewhat like the day I suppose. As I turned my head back to the ground, I started to cry, but then I saw two Bibles, my own and my father's. The Bible he had used and treasured most dearly. I will never forget grabbing it in that life-altering moment. As the chaos began to continue, I became frustrated with myself, God, and the people around me. Everything was going wrong, from continuous questions asked, such as "Who was driving? Are all of y'all related? How old is your daughter?!" to the immense sadness of being trapped in a car with everyone trying to help and feeling completely alone. As the dust floated in and flies flew and crawled around my blood-covered neck, all I could think of was my sweet, wonderful father and family. All I wanted from the people outside trying to help was for them to get my father out of the car. My anxiety kept building; the fear rushed over me like an ocean wave.

Little did I realize at that moment that my dad's seat belt never locked, the airbags never deployed, and the car doors had snapped during the accident, all later causing my dad to be paralyzed- an eternal guilt and shame that I have slowly let go of but will never forget. As I stayed trapped in the car for over 20 minutes, they had to bring in the "jaws of life" and saw the door completely off for our escape. In that very moment of freedom, all I wanted to do was run- run away from this horrific situation. But all I could do was get placed into an ambulance and be driven away with my mom and my sister, but not my dad. He was care-flighted to John Peter Smith Hospital, to which we drove later that day after getting tons of glass shards off our bodies and finding out that our treasured mother had four broken ribs. As we rushed to the hospital to which my dad had been care-flighted, we were alarmed by how many people were waiting there to greet us. Scared, freaked out, and bruised/scraped, all I wanted was to see my dad and have his comforting words tell me that "Jesus will take care of us and everything is going to be all right", but I didn't hear those words until much later, leaving me in a tragic state of agony. As my mom rushed up to see my father, my sister and I stayed behind, trying to grasp everything that had happened in the past two hours, while at the same time attempting communication with people we had suddenly forgotten the names of.

As the day lingered on, we made our way to a hotel where my sister and I would stay the night and wake up to what seemed to be an everlasting wait to see our father. Our sleep came rapidly and was deep and peaceful, and it was fortunate that we didn't need to wake up early. By 1:45 in the afternoon, we had arrived at the hospital on the third floor to see our beloved father. As we walked through the doors to his room, every imaginable emotion crept into my life. My emotions settled quickly, however, due to the comforting surprise of my older sister's arrival, who received the excruciating news about our accident over the phone. Since my older sister has such affectionate consideration when it comes to people hurting internally, her presence was a real life-saver.
Seeing my father for the first time after practically the worst day of my life was full of relief and misery because no one should see someone they love in pain. My mom, for instance, really struggled with seeing my father hurting so much. In fact, she got up so many times during the night to check on him that her already-damaged ribs punctured her lungs, causing her to be hospitalized also! Life as I knew it was flipped upside down, but the only person I could truly hang onto was the Lord. Jesus has helped me so much in this continuous struggle to let go, and all I can say is that it has made my family stronger, and an abundance of love and care has grown around me, especially from Jesus.

In conclusion, accidents are real and can definitely alter life in infinite ways, but leaning on Jesus Christ is the only answer for hurt and pain and love.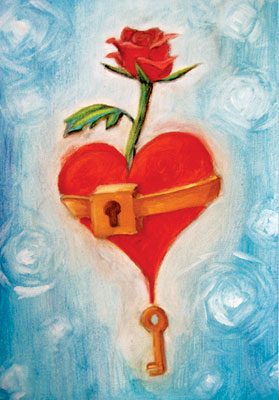 © Louisa L., Pleasanton, CA