"Inconceivable!"
February 21, 2018
I've been doing theatre since I was eight; it is without a doubt my favorite thing about school. But out of all the productions I've been a part of, there's always been one that stood out; the 2017 student direct of The Princess Bride.

Originally, I wasn't even supposed to be a part of this show. I was in theatre II at the time, and the student directed plays were always for theatre III and theatre IV. when I found out that theatre III and IV were doing The Princess Bride, I was excited, yet devastated. On one hand, I was thrilled that the fine arts department was making one of my all-time favorite movies into a production. But on the other hand, I was disheartened that I couldn't take part in it.

I remember seeing the cast list for the first time, all of the roles were chosen perfectly. The play was being directed by Kirsten, a senior whose love of theatre was like no one else's I've seen. She had carefully selected which actors or actresses would play each role. The lead of Westley went to Chantz, and let me tell you, there could not be a more perfect person to play that role. I was eager to see who got the part of Inigo Montoya, which is my favorite character, and when I saw my friend Eli's name next to his, my eyes lit up. The cast was perfect.

The cast have been working on the production for nearly a month before it happened; Eli was sent to DAEP and removed from the production. I couldn't believe it. The day of the show was two and a half weeks away, and they didn't have an Inigo.

I remember the day Kirsten called for me personally. Me. She told me that she'd heard from other people that I was a decent actor, and that she wanted me to fill the open spot. I couldn't believe it, it's as if the stars were aligning. Unfortunately, I wasn't filling the role of Inigo Montoya. Thomas D., who was playing Prince Humperdinck, was filling in for Inigo. So now I was playing Prince Humperdinck. But I didn't care, I was now a part of a production of one of my favorite movies alongside some of my closest friends.

Kirsten was worried at first that I would have trouble memorizing all of Humperdinck's lines and blocking in such a short amount of time. But I didn't. I've seen this movie so many times prior to my casting, and now I had the full script. I got all of my lines and my blocking down in one day. One of my proudest moments is when Kirsten was grilling some of the other actors after rehearsal for not having their lines completely memorized when we had only a week left until the day of the show. Kirsten said, "Why don't you guys have your lines memorized?" She then pointed to me and said, "Levi got his lines and blocking memorized in one day!" Now, normally, I don't care for boasting, but Prince Humperdinck isn't exactly a minor role; he's the main antagonist of The Princess Bride, so he has quite the amount of lines.

All seemed to be going well... until the day before the show. We hadn't done a single run through yet, our technical queues were all out of order, and people still didn't have their lines memorized. I caught a glimpse of Kirsten after that final rehearsal; her hands were covering her face, but I could tell that she was the physical embodiment of stress. It seemed like no one was prepared for tomorrow.

It was the day of the show. Everyone was more nervous than they had ever been in their entire theatre career. We were about to go put on a show, which we had never even run through, in front of a loaded audience. We all gathered in the band hall behind the theatre before Kirsten gave us our last words of advice; "Break a leg, y'all." It was time for the show to begin.

Before we knew it, the show had begun. It all happened so fast. And I don't know how we managed it, but we absolutely nailed it. You might say it was "inconceivable". Everyone executed their entrances and exits flawlessly, and everyone's line delivery was spot on. I couldn't believe what we had accomplished. It was one of the longest standing ovation's I've ever witnessed, let alone be subject matter of. It was without a doubt the best show I've ever been a part of. And as much as I love him, if Eli hadn't been removed from the show, I would've never been a part of it. And for that, I owe him.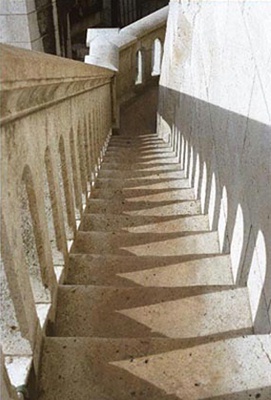 © Christina W., Towson, MD