"No one has ever become poor by giving" Anne Frank
February 20, 2018
It was June 2015, summer had just begun. This meant that our family would be going on our annual trip to India to visit my grandparents. The flight to India was rough, so by the time we got there I was very tired. As we rode in the car to my grandparents' house I saw how bad the living conditions of India really were. There were loud sounds of cars zooming around and honking at other cars. There were people on the street begging for food and people sleeping on the sidewalk where there was nothing protecting them from the outside world. The people who were begging on the street barely had enough money for clothes and a meal to eat each day. The living conditions for these people were very bad because they had nowhere to sleep. I had never seen poverty conditions as clearly visible as these. While looking at these people in poverty I realized that I took everything I had for granted. This made me realize how grateful I was to live in wealthy country where I had a house to live in.

After experiencing these different sites of poverty in India I realized that I needed to give back to people who had to face conditions like these. After returning I found that there was a very high poverty rate in Georgia. Though poverty in Georgia is not as apparent as it is in the streets of India, it still exists in certain areas. As a result of this I began to research ways that I could help donate/give back to people who were in poverty in Georgia. After researching I found multiple ways that I could help people in poverty. Since I am a teenager and had no source of income yet I realized the best way I could help these people was by providing my time. Through my research I found out about an organization called "Meals by Grace". Meals by Grace is an organization that provides food support to children and families in needs. I found out that in my local area this organization was looking for volunteers to help make and package food for families in need. I realized this was the best opportunity I would have to help give back to those in need.

After participating in Meals by Grace for the first time I realized that "No one has ever become poor by giving". After reading this quote I realized that anyone who is not in poverty can give to those in poverty and make a big difference in their life. People that give to those in poverty will never become poor because they become richer in generosity and satisfaction. This made me realize that by helping sort and package food for just one day I could make a big difference in someone's life. I would not have gotten involved with the Meals by Grace Program if I had not been moved by the poverty I saw in India. When I go back to India again this summer I plan to help give back to those in poverty in India by giving them clothes, school supplies for children, etc. I shall continue to live by these morals for the rest of my life and always find time to help those in need.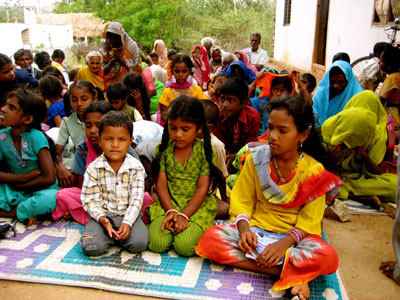 © Carolyn K., Sudbury, MA