My Inspiration
February 1, 2018
Being autistic can not be that bad. You get all the attention in the world and you can get away with anything you want, whenever you want to.

My brother was born with a rare medical condition called Lowe Syndrome, which affects his eyes, kidneys, and brain. This syndrome limited the way my brother did everything. He had trouble doing even the most simple things that most people take for granted. Until the age of one and a half, my brother could not hold up his head or even sit up by himself. He could not walk until he was three years old and had to use a walker for assistance. He is twelve years old and to this day he needs constant supervision and requires nursing care. Knowing that he could not live an average life breaks my heart. I thought that he would never be able to experience all the things that a normal person would, but my brother defied all odds and is experiencing everything today, just in his own unique way.

When he was born his doctors believed that he would not be able to speak, but he proved them wrong. He defied the odds and now carries on a conversation with any and everyone. His first word was daddy and it may seem like a normal accomplishment for a child, but for him, it was a miracle. Just that one word was the start of his life. When I heard him say his first word it made me see that all things are a blessing. Here I was at the age of seven being able to read, walk, and play sports while it is an accomplishment for him to just say one word. Now he has grown so much academically, physically, and mentally. At the age of twelve, he can read and write at a second grade level, with some assistance. I love knowing that he is not fully dependant on anyone and tries his best to do everything on his own. He may become stressed out because he got an answer wrong or he can not figure out how to pronounce a word, but he prevails and finishes no matter what. Everyday I wake up and see him smiling and it makes me happy and brings joy to my heart. He has gone through so much in his life and he still walks around with the biggest grin on his face.

Because I have my brother in my life, I feel I have found my calling. I want to become a doctor when I grow up. All throughout his life, he has been going to countless doctors appointments, been hospitalized, and I have always been there for him. Because he has several doctor visits and hospitals stays, I have been able to gain first hand experience into the medical field. I feel I know what to expect before I even go to medical school. Thanks to him, I already have experience with medicine, behavior problems, and I now know what it feels like to have someone's life and future in my hands. When I help my family with his daily medications I know that this is what is keeping him alive and well. I love being able to take care of him and see him thrive in all aspects of his life
My brother is the reason why I have been so successful in school and he makes me want to do better and be a better person. Now I go to one of the top schools in California and I am excelling and enjoying every moment. I often stop and think that I have to appreciate the fact that I am able to attend regular classes, because I know that he will never be able to go to these due to his illness. He has to attend special day classes, has a one-on-one aid, and has a nurse with him at school. My brother pushed me to want to do better and without him I know I would be attending a regular high school with average grades.

Special needs children are impossible to work with. I have to constantly watch and care for them, not to mention the daily temper tantrums. Most people who have an autistic child find it too difficult to take care of them or they just do not care and give them up. They do not think it is worth it to take care of someone who probably can not find a way to properly express their gratitude, but they are not me.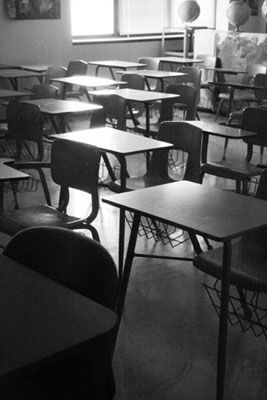 © Sean C., Princeton, IL