How I Wrote and Self-Published my First Novel… and You Can Too!
January 28, 2018
Do you have an idea for a novel that you want to write, but aren't sure where to start? That was me a couple years ago. I knew the story I wanted to tell, and I couldn't wait to tell it. Writing and publishing a book seemed completely overwhelming, but I knew it would be worth the effort. After all the outlining, drafting, editing, researching, querying, marketing, and other pieces of this process that I didn't even know existed, I pressed the button and self-published Heartshire High. When I saw it hit #3 on Amazon's "Being a Teen" Teen and YA New Release Ebooks list, I knew that all the work had been worth it and that this may be my first novel… but it wouldn't be my last.
If you have a story in mind but the idea of writing a book seems overwhelming, I have some suggestions based on my experience!
I made an outline and defined my characters. When you have a story idea, you might want to start writing right away! In the beginning, that's what I tried, but I soon found that the time I spent outlining my story was totally worth it.
Getting a good understanding of my characters and what they would do meant that I didn't get lost in the middle of the story. This also allowed me to remember to include all the ideas I had in mind for my novel and get rid of the extra details that I didn't need. Most importantly, it helps you catch inconsistencies in your writing and holes in the plot, and it helps to make sure your story stays interesting all the way to the end.
In my book, I was working on including themes, poems, motifs, and references to Alice's Adventures in Wonderland, so keeping an outline was particularly important because it helped me do so consistently. I know an outline might sound boring, but it's essential with a big project such as a novel. If your favorite author has a blog or social media presence, he or she might have shared some previous story outlines--take a look!
I set a timeline and weekly and monthly goals. Writing a book is a big project, so having a schedule to follow can help you get to the end at a reasonable time. I started writing without any sort of timeline; I would write a few pages here and there and sometime a two or more weeks would go by without me touching the story. I quickly realized that I needed to set goals to keep moving along at a reasonable pace. I also found that having deadlines for finishing chapters helped me stay motivated throughout the process.
Many writers suggest writing every day, whether you want to or not. I found that what worked for me was a couple days a week with a LOT of writing, and then one day a week of editing or brainstorming time. You can choose whatever process works for you, but having a process helps you keep going when the project feels too big.
I edited a LOT and asked for help. For lots of writers, editing is MUCH harder than writing the first draft. Why? You have to read the novel carefully over and over again. More importantly, you sometimes have to get rid of pieces of writing that you love because they don't fit the story, and sometimes they are HUGE chunks of text that then have to be reworked or replaced. This was one of the more difficult factors for me, but I found that keeping a writing graveyard where I pasted these excerpts helped because I could reference them later if I wanted or needed to. It also meant they weren't gone completely, and while I know it's incredibly unlikely that they'd ever be used in another piece, I still found it comforting to keep them.
Don't be afraid to have other people read your book and give you input! After all, you're writing a book with the goal of other people reading it, right? Friends and family can help you catch everything from typos to inconsistencies in your plot.
I learned how to self-publish online. The traditional process for publishing a book is that an author finds an agent who then sells the author's book to a publishing house. This is done by querying agents, or writing them an interest letter to get them reading your book. I tried going the traditional publishing route, and my query letters got a lot of positive responses from agents, but in the end I wasn't able to secure an agent to represent the project.
I was nervous about publishing myself, but it turns out that everything you need to know is pretty easy (and quick!) to learn online. At first it seems daunting, but you can find step-by-step tutorials and do everything for free on your own.
I built up a thick skin and learned more for next time. Writing a book means being hard on yourself and not being resistant to cutting things you really love that you've written. Passages that you may adore in your story could also be hurting it, so you have to be able to look at your book objectively. It also means taking criticism from editors, family and friends, agents, other authors, reviewers, and pretty much everyone you encounter. It's easy to get offended or have your feelings hurt, especially after all the time and effort you've put into the project, but that doesn't help you get better! You have to believe the criticisms that you hear and use them to improve yourself and your writing. If you can do that, it will make the process easier and much better for next time.
As I start to think about my second book, the process doesn't seem nearly as daunting, because now I know that it's just that: a process. Don't expect your book to fly out of your fingertips into the keyboard in a week's time, but if you're ready to make a plan and pursue it diligently, you can write and publish your novel on your own.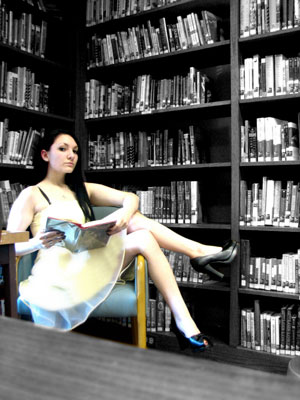 © Jessica F., Bradford, MA