My Goals in Car Life
January 25, 2018
When I get older my goal is to build the next fastest quarter mile Toyota Supra. I plan on buying one cheap so i can rebuild, and restore the car. How I will do this is: I will choose the car, then I will rebuild, and then I will restore the car. Let's get searching for a cheap Supra.

So I will choose the car. It will be a mk4 Toyota Supra. I choose this car because it's easy to modify and it's a really fun car to drive. I will try and find a twin turbo version so I know I get the most power from it. I'm choosing this car because it's nice and easy to build off of and I love cars. Now that I have the car time to take apart the engine and replace with some high performance racing parts.

When I rebuild my Supra it will have 1000+hp, but I also will go for a lot of torque which is what gets me off the line fast. I will strip the engine and buy race parts for my Supra. Then I will buy 2 of the biggest turbos I can get with nos (compressed nitrous oxide). I want my car to be as fast as possible.Now that the engine is rebuilt time to restore the car to handle the power and force the engine will produce.

The restoration of the Supra shouldn't be to hard. I will strip the interior so I can get a 5 point racing harness which doesn't allow the driver to move around freely for my bucket seat with a race steering wheel and a race dash board that is really light so the car is lighter which will make it faster. It will have a removable passenger seat so it can be a daily driver too. There will be a rollcage for maximum safety so if I roll it there's a less chance to get majorly injured. If I have to I will fix up the exterior such as rust work or scratches in case I don't want the carbon fiber shell on. So maybe I can get a carbon fiber shell which makes the whole car much lighter but if I wreck it will cost a lot of money to replace. I want my car to be as safe as possible that's why I'm going to do this for my car. Now that the car is complete time to hit the track for some times.

So I choose my car then I rebuilt the car and finished off with restoration. Now, "will it beat the record?" Hopefully, especially after all the work put into it. If it fails then I will find out why and fix it until it works. That's my goal; nevertheless, what I plan on doing to it when I get older.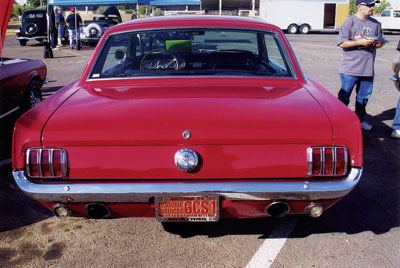 © Andy G., Phoenix, AZ