Football
January 25, 2018
I got interested in football when I was 5 years old. I was playing flag football with my friend, I tackled him and he rolled and landed on my arm and it broke. After that, fun things always happened in football. The reason I like football is the excitement every game. When I was in 8th grade I met Coach Quinlan. He changed my life on and off the field because he is a good person.

He changed my life by, showing me that every bad play or fumble he didn't take it out on the person. He explains to everyone about the fumble and how we should have done it instead. If we don't tackle right or run through the tackles we get told what we could have done instead of getting yelled at. But after all that our team gets better. Our team quote is: ¨Team first Team last¨. Team first Team last mean our Team is our first priority and our team will always last. The ball is our number 1 priority during practice and games. Our job is to protect the ball and our team.

How he changed my life off the field is he disciplined us to be better at the game of football. He shows us all how to tackle, and teaches us to always go a one hundred percent. He encourages us to tackle better and block better and he motivates us to to block and do our fakes correctly. But the excitement after scoring or getting a good block or tackle is awesome. When you do the right thing it pays off.

He motivates us by pushing us to be the best on every play. When you're not on the field and on the field he expects the from us at all times. He makes you give it your all when you don't even know the play. He wants every play at one hundred percent even if you messed up, just hit someone and have something workout.
Football has changed my life in everything I do on and off the field. I have more discipline, and am able to think on my feet in any situation. I have learned that if I mess up on something that it's not the end of the world. Coach Quinlan is the best coach I have ever had, and looking forward to working with him in the years to come. Breaking my arm and realizing how things can change so quickly, has showed me not to take anything for granted. You never know when something good or bad is going to happen. Just get out there and be the best you can be and give it 1 hundred percent.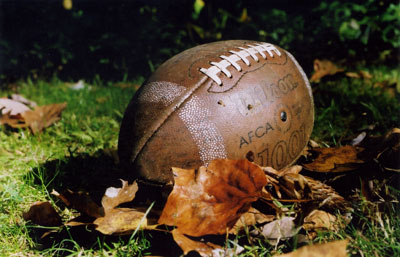 © Michael L., Bethesda, MD