Con Amor, With Love
MAG
January 18, 2018
Our house stands tall in the middle of a crowded neighborhood, whisked away on the outskirts of town.
I stepped into the house on a typical Tuesday. As usual, I was greeted by the strong scent of seasoning and spices. I took off my shoes and glided over to my mom in the kitchen. She was finishing up dinner for tonight.
"Ayudame con la mesa, Mel," she blurted while seasoning the chicken to put on the stove top. "Help me with the table."
I drowned in the pleasant aroma of chicken and garlic.
"It smells so good, Mama," I drooled while trying my best to grab a few plates and forks. After I placed the plates gently on the dinner table, I jumped back over to watch her. She carefully placed five pieces of chicken on one plate, and poured brown rice onto another.
"How are you so good at that?" I questioned while taking a small piece of chicken and munching it between my teeth. She smiled at me and continued to organize our meal. I was amazed. My mother has never ceased to impress me with her talent.
"Con amor," she chuckled. "With love."
I looked puzzled and continued watching her. With love? I replayed the phrase in my mind. I didn't really understand what that meant at the time. I understood love comes from the heart, but I didn't know you could use that as an ingredient. I didn't seem too bothered by it at first, but it kept coming back to me.
I ate dinner with my family that night and I couldn't get it out of my head. I took small bites of my meal while the thought continued to swirl around in my mind. Con Amor, with love.
I continued to hear that phrase as I grew up. Thanksgiving, Easter, Christmas, New Years. I would come home to find a new dish made with amor. I pondered what it would be like if a dish wasn't made with love.
"Hey mama, what happens when a dish isn't made with amor?" I asked her.
"It's never the same," she sighed.
"But restaurants don't make their food with love and it still tastes good!" I exclaimed.
"Does it taste as good as my food?" she chuckled.
"No," I laughed back as she continued to eat leftover chicken.
The year after that, my sister went to college. It was just my mom, dad, little brother, and me. My sister would always complain about the junk food she was eating at school and how she missed the delicious home cooked meals. Honestly, I didn't know why she was complaining. There was a Walmart right next to her school loaded with amazing junk food at great prices.
As a little kid, I only understood one thing about food: mom's meals and junk food were the best kind out there. As much as I loved what my mom made every day, it would be nice to fill up with junk food once in a while.
My sister came home for Thanksgiving. All she would do is rant about the disgusting food served in the cafeteria at school. She would go on and on about my mother's meals and it got kind of annoying at one point. I never knew I would experience the same thing a week later.
After Thanksgiving, my mom had a fever, so she couldn't cook for us. Instead, my dad took over and while it tasted good, it wasn't the same as my mother's food. I wished every day for the next week that she would feel well enough to continue to cook for us. My sister went back to college and I sat next to my dad while he cooked.
"Are you making your meals with love?" I asked him.
"What do you mean, mijita," he chuckled.
"Mom makes them with love. That's why they always taste good," I explained.
"Everything I do is with love." He smiled, kissed me on the forehead, and continued to season the meat.
Then why doesn't it taste as good as mama's?
She was back on her feet the next week.
"Oh, thank God you're back to cooking," I sighed with relief as she got the pots and pans ready.
"Was your dad really that bad?" She raised an eyebrow at me.
"I don't think his dishes were made with love like yours are," I laughed.
"And I'm a better cook," she giggled.
"What does con amor mean? I know what it is, but why is it an ingredient?" I asked her the question I'd been holding in for almost two years.
"Because without it, the food won't be the same. You love my food. I love you. That's what makes mine different than any other restaurant," she explained.
"Well that's the answer to my question," I giggled while giving her a hug.
"Con amor," she said.
"With love," I sighed in relief.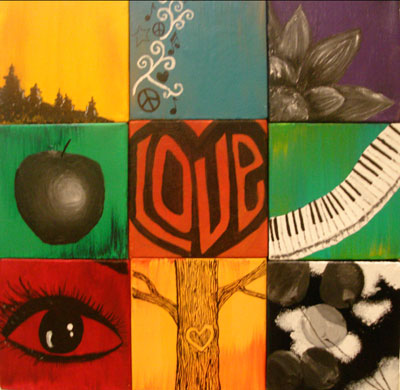 © Christina E., Henderson, NV