How to Get a Good Night's Sleep
January 18, 2018
Ingredients:
A load of finished homework
Pre-heated memories
A dash of good grades
Sprinkle of today's embarrassing moments
A seasoning of yesterday's regrets
A whisper of sound
An acre of warm blankets
A wink of light

Directions:
Begin the baking with popping your prepared load of finished homework in the microwave for 10 minutes
While allowing step one to cool, add your acre of warm blankets to a large mixing bowl.
Gradually stir in a whisper of sound to your large mixing bowl, stirring continuously.
Until well combined, add a wink of light to that same bowl, with a dash of good grades.
Throw the prepared load of finished homework into a separate bowl, and add a seasoning of yesterday's regrets.
Slowly incorporate the sprinkle of today's embarrassing memories to that same bowl.
Combine the dry ingredients to the wet, and slowly mix until batter is smooth.
Throw in the oven at 350°, and allow to bake for 20 minutes.
Allow product to cool for 30 years, then frost with a heap of good memories.
Serves up to billions of people, and lasts a lifetime.

*Caution*
Results not guaranteed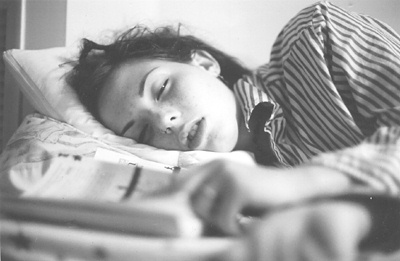 © Rosie A., Lexington, MA