Extraordinary
January 16, 2018
I was sitting in the tutoring center on Thursday, November 16th. I remember the day because when I was about to fall asleep that night, I wrote the start to this essay in the notes on my phone. At 6th period, I went up to the tutoring center to get help with Sarah and Jenna because I had decided that I wanted to revise my personal essay but had no clue what I wanted to write about, until I sat down to talk to Mr. Lessing.

I had talked to Sarah about going up to the tutoring center at lunch, while we were in english, and the next period in spanish, I asked Jenna if she wanted to come with us as well, because I knew that she also had Mr. Lessing for english. When we got there, Jenna and Sarah expressed to him that they had needed help on their Namesake essays and he went around to ask what each of us needed. I was asked last and he was about to start helping Jenna. He asked if I wanted to do my essay on the same topic as my original to which I replied no, I wanted to do something completely different. He then asked, "Could I conduct a short interview with you because I think I have some insight on you about something that you could write about." I said yes to the interview and he asked if I wanted him to do it right then. To this is replied with an, "..uh yeah, um but if you're helping Jenna right now then it's ok," or at least something along those lines. He then stopped and said, "See that right there is what I meant, you always take a backseat to everyone and you don't realize that you are extraordinary."
We were sitting at an octagon table with Sarah and Jenna on either side of him and I was on Sarah's left side, but we were looking directly at each other and when he said this to me, something kind of clicked. My eyes started watering as a stared and listened to him. I wasn't sad and I didn't start crying but for some reason his words hit me in a way I can't exactly explain because I had never really thought about it before.

There is not a time or specific moment in my life that I started taking a backseat. It might stem from a fear of failure. As I have gotten older, I have started to back away from things that scare me or that I am not sure if I can do. This happens in sports, school, etc. I remember when I was in 8th grade, I was just becoming friends with 3 girls on my swim team. They were in my grade but they were in a different group and had recently got moved up to my group, Tija, Alexa and Nicole were really shy and I didn't talk to them very much but they eventually became some of my best friends. Alexa in particular is very competitive, and as we got older she continued to get better. During freshman year we were about the same speed and she always wanted to race. She would always tell me to go my fastest on this one thing or that one thing because she wanted to race me, but whenever we had those, I would never go my fastest. I would purposely go slow so that she would beat me by a long shot. Because then at least she could tell that I wasn't trying. I didn't want to go my fastest and then fail, so I just avoided it. I thought that I would be embarrassed if she beat me so I just didn't even want to try. Now Alexa is faster than me and at this point, I won't even try to beat her because I don't think there is any use in it.

In some ways you would think that this would be motivating for me to work harder to beat them and to a small extent, it was. But at the same time I believed that it wasn't worth it because I didn't want to work hard if I didn't think I could succeed and I didn't want to risk failure. I haven't yet found the thing that allows me to be vulnerable enough to take risks.

I believe there's a difference between not realizing something and not believing something. Mr. Lessing told me that I don't realize that I am extraordinary, but what if it's not that I don't realize it, what if it's that I don't believe it. The definition of extraordinary is very unusual or remarkable. I don't think that I have done or accomplished anything to fit that definition. When I think of extraordinary, I think of accomplishing something amazing, that you love and that you have worked so hard to do. I have not done anything in my life so far that I believe fits this criteria.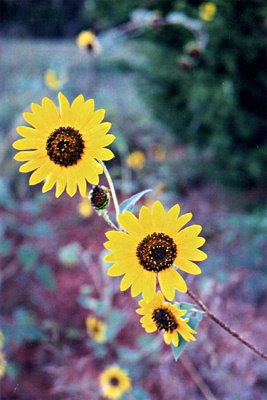 © Megan B., Luther, OK