Fitting In
January 17, 2018
I first met Cecily when I was 4 at Montessori school. We went to different elementary schools up until 5th grade, when I moved and joined her class.  In middle school, we had less and less classes together, and by eighth grade we barely got to see each other.  We started hanging out with different people, but emotionally nothing changed.  In movies people always have that one best friend with whom they do everything, but that's completely inaccurate.  If I wanted to talk about musicals, I would talk with friends that I made through doing musicals, like Isabelle or Sonia.  If I had a question about music, I would ask one of my friends in orchestra, like Maia or Natalie, just like if Cecily wanted to talk about volleyball she wouldn't talk to me.

Similar to how I don't talk to Cecily about everything, I don't have one singular friend group.  I have the friends I sit with at lunch, the friends I do theater with, the friends I'm in orchestra with, the friends I have Driver's Ed with, the friends I play violin with, and the friends I have from speech team.  Many of these people are thoroughly different, but I have something in common with all of them.  I have no illusions to the fact that I'm not all of their closest friends or part of their "inner circle", but each person is someone I can talk to about something, whether it's how to merge onto a highway or why double flats and sharps exist in the world.
One of the reasons I don't have one specific group of friends is because at my school there aren't other people like me.  Although my school is progressive in policy, there is still division within the people.  My school is predominantly white and black, and although they emphasise diversity, it is only with those two groups.  Since I am neither black nor white, sometimes I feel like my school does not see me, and I am just a statistic that they look at in passing.  I am other.  I am Asian, specifically Indian (that's one group I could belong to).  I am an Asian in orchestra (another statistic I am a part of).  I am in pre-calc, yet another thing that makes me feel like I am fulfilling a stereotype.  However, I am also into theater and I take Japanese.  I do not fit into these two categories.  There isn't a group of Indian American teens at my school who are in orchestra, speech team, taking Japanese, and involved in the theater department.  I have no support system of someone who can totally relate to me on every level, so I have to build groups that altogether are me. 

One example of this nonconformity issue is Hairspray, the current musical at my school.  As soon as it was announced that we were doing Hairspray, I was immediately filled with dread.  I knew I would be cast in the black ensemble, but I was worried that I wouldn't fit in.  During auditions and callbacks everyone was really hyped up, excited, and talking about black magic and black power, and I was awkwardly standing off to the side sipping my water bottle, talking to one of the other girls there who wasn't black, joking about melanin power.  Then, the group talk changed to melanin power.  I was suddenly included in this group.  Instead of black, the group was non white.  Slowly but surely, groups at my school are becoming more inclusive.

Even though it won't happen while I live in Oak Park and go to high school there, I hope that one day our cafeteria doesn't look like a throwback to segregation, with tables of white jocks or asian nerds or any other stereotypes.  I will always be that one who doesn't fit into a category, but maybe one day there will be enough brown people like me that we can do Aladdin.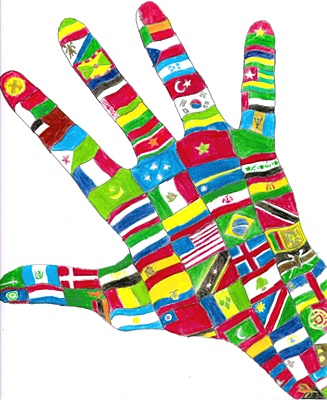 © Adeline N., Ridgefield, C