I Want To...
January 15, 2018
I want to dive deep into the ocean, making my fragile body get a cold rush through its spine for I want to be nothing but a live floating piece of body in a world made of just water. I want to take in the queer beauty of wild, uncanny sea horses and jelly fish wandering in the flow of monochromatic crystal blue, saline water.
I want to fly high in the sky, deep in the clouds, feeling the cool breeze striking my face, making my hair fly on its own. I, yet again, want to look at all those ordinary buildings, trees and rivers but this time, from a different angle, from a different perspective, from a place where no one but me would get the chance to lie among the clouds and acknowledge the massive cluster of humans.
I want to dance in the shower of rain like there's no tomorrow; the tiny droplets of heavenly water falling on my face in a way that the rain won't let my eyes open – forceful yet soothing. I want to hear the frog croak and watch the peacocks dance. I want to jump in and splash the dirty, muddy pool of water and not care about my swish dress getting spoiled or missing my lectures tomorrow because of getting a cold.
I want to live the life of almost every person I come across just to know their journey and perspective of life. I want to live the life of a kid, an aged women, the one I'm jealous of, the one I'm afraid of, the most popular student of school, my hollywood crush or even just a passing stranger. I want to know their problems, their aesthetics, their fears, their life; just to get a proof for the fact that everyone is different from others and being different is not actually a bad thing.
I want to die once but with a power that I could unveil the secret of "life after death". I want to die, to know what happens after death; is there a beautiful, happy place beyond the clouds, among the fairies which we term as 'heaven' or a vicious dark dungeon inside Earth's crust called 'hell'? Or it's just that we die and our body starts tearing up, falling apart, stinking, mixing with the Earth's crust and then, suddenly no one wants to embrace us again?
I want to travel the whole wide world, wandering in the deepest cities. I want to absorb the beauty of London's Big Ben, Paris's Eiffel Tower, Africa's savanna, Antartica's snow and every other world's masterpieces. I want to live there, far away from my ordinary life where I'll be waking up every bright morning to do new things in a new place.
I want to… yes, I do. Don't you too?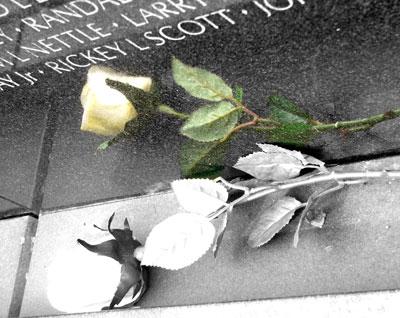 © Kimber E., Yorktown, VA