I Am Who I Am
January 9, 2018
A principal ballerina floats across the stage telling the story, not a single word uttered, but it's as if she has said a thousand. Her passion on the stage is understood by all in the audience. She has worked her whole life for this moment. She expresses pain along with emotion through movement.

I dreamed I would be that ballerina that all the little girls watched. I told my parents, I wanted to be "just like her" one day. I wanted to be that dancer that I saw in the Nutcracker at the Weinberg Center. However, I will never be that dancer. Instead I will be nurse running to a helipad ready to jump into a helicopter to fly to the scene of a serious accident, ready to help someone in need.
This change didn't just come about because I wanted to scratch all of my dreams and start anew on a different path. At age nine my dance dreams came to an abrupt end when I found myself lying on a hill in unimaginable pain, looking up to see my dad squeezing my leg as hard as possible, pale in the face. I had been pinned against a tree by a rough terrain vehicle weighing 32 times my weight.

I didn't realize at the time, but I would never walk into a dance studio again, never grace the stage as a performer in those classic pink ballet slippers. Instead, I was loaded into a helicopter and airlifted 100 miles from a field in the rolling hills of West Virginia to the bustling chaos of northern Virginia. I spent, initially, three weeks at Inova Fairfax Hospital in and out of surgery. I had my ups and downs, physically and emotionally.
During my stay at the Northern Virginia hospital in the boredom of my room, I began to start asking questions, as any other nine year old would do.
"Why must I lay flat?"
"What are those metal rods on my ankle?"
"Why is my toe glowing?"
The answers to those questions came simply. I had three fractured processes of two vertebrae, an external fixator consisting of four exposed pins and two rods, and a pulse oximeter to monitor blood oxygen levels in my foot.

The more time I lay in bed, the more curious I became. I asked the nurses and doctors questions. Everyone that came through the door was politely bombarded with questions. These questions evolved into an interest as I began realizing what the brilliant doctors and nurses had done to save my life and my leg. This ordeal has not only changed my path for the future, but brought out a new side of me that I didn't know was there.
I learned that I thrive on curiosity. Curiosity is pushing me full force into the medical field and I consume the knowledge with the same passion as the ballerina I once saw. I study and glean from my initial x-rays and surgeries; they fascinate me. Learning more and more about what I have come through has brought me to the point where I feel as though I can help others and be that nurse that they can talk to because I understand. I want to be the nurse that inspires the curiosity of the next generation.

It was dance that showed me how to dedicate my life to something I am passionate about. Even though I am unable to be a dancer, I have a new passion. I believe my future holds a life dedicated to helping others and helping them discover a passion they didn't know was within.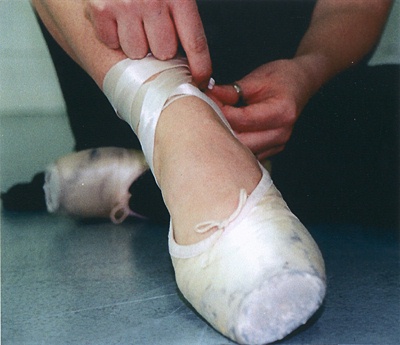 © Nora F., Pembroke, MA