Almost Heaven West Virginia
December 20, 2017
I haven't been to a lot of other states, but the few I've been to don't compare to West Virginia. I've traveled all around the state and love living here with all the natural beauty. Some places I've been to stand out more than others, but none the less have become my favorite places. I'm going to take you on a journey of some of the best places I've been to.

The first stop is the most picturest place I've been to: Harpers Ferry. I went there this past summer, close to the fourth of July. My mom wanted to see all the historical items, but I wanted to see The Point, where two rivers and three states came together. I had heard that the view was great, but it was better than what I expected. The view where the Shenandoah flows into the Potomac was incredible. You can see for miles to the east up the Potomac River and see bridges in the distance. We had to drive over three hours, but it was more than worth it.

The second stop is Berkeley Springs, a place about 30 minutes West of Harpers Ferry. Berkeley Springs is a small town in West Virginia's Eastern Panhandle on the banks of the Potomac River. A big reason I like the small town are the natural springs that are there. The springs stay at a constant 74.3 degrees all year round, which feels nice if you go there in the cold fall. It reminds me a lot of my own hometown, which is why I enjoy going there.

Now to a unique place up in the mountains, the Elk Springs Resort. This small resort with an incredible restaurant is situated on the headwaters of the Elk River. The resort grows gigantic Rainbow, Golden, Brown, and Brooke trout and releases them throughout the year. The peace, tranquility, and fishing makes this a great place to relax. There is also some small waterfalls just down from the resort, which add to the tranquility and peacefulness.
The final stop is the highest point in West Virginia: Spruce Knob. It is a long drive up to the middle of nowhere, but it's completely worth it. When I finally got to the top, I walked up a path and climbed the old fire lookout to a phenomenal view. You could see for miles and see the tops of all the mountains. I also got to fish in the lake that's below the mountain. It was a great experience.
And so, that concludes the trip to some of West Virginia's best places. I wouldn't trade my trips to these places for anything, and hope to go on some more journey's around West Virginia.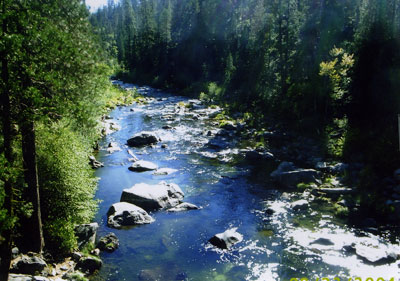 © Laycie C., Stockton, CA