Cruising Family
December 1, 2017
It was Christmas Eve 2012 and, like always, I was by my Mimi's house with my cousins, aunts, uncles, mom, dad, and brother. When it was time to open presents, my Mimi gave each grandchild a paper to go on a scavenger hunt for our presents. When we found the last clue, it led us back to the living room where a large wrapped box sat. We excitedly opened it up and out came a Mickey Mouse balloon with a note attached that read, "Oh Boy! I can't wait to see all of you on a Disney Cruise for your Mimi and Paw-Paw's 50th wedding anniversary! See you real soon!" My entire family would be going on a four-night Disney cruise to the Bahamas in the beginning of that summer. We opened other presents, which included matching shirts and bags for our next adventure. My other cousins and I were quite excited, but I was also nervous because I knew wearing matching shirts would be embarrassing. I was also worried that I would rather be with my friends, and that I would not have my phone while at sea.

The time came for our trip to begin, and we boarded the boat with our matching shirts on. We all checked into our rooms that were next to each other. We checked out the boat, which had putt putt, swimming pools, an ice cream shop, a basketball court, a teen spa, and a teen hang out club. We had our first dinner with, Yetika and Milos, our waiters for the whole trip. As the days passed by we had more and more fun. We would be the last family up every night visiting the characters and having a good laugh. After dinner on the second night, we were in line to take a picture with Minnie Mouse. We were all just talking while waiting in line in our fancy dresses and suits for the formal night on the cruise. We were getting close to our turn as we continued on in the line. We were in the part of the line that turned and went down three steps to get to Minnie. We were next in line, and my Mimi was talking to my dad about what the plans were for the next day on the Disney Island, Castaway Cay. I was talking to my cousin, Jenna about One Direction when suddenly, I heard BOM! I quickly turned around and saw my Mimi lying on the floor below the stairs. My Mimi had fallen down the stairs because she was not aware they were there. She tumbled down almost knocking the back drop of the picture down which would have taken Minnie with it. I was nervous that my Mimi was hurt, but I quickly realized that she was fine and laughed with the rest of my family. All the workers knew us by this time, and we became known as the "Burgard's." We were the loud, obnoxious family that everyone on the cruise was amused by. In the beginning of the cruise, I was embarrassed by this fact, but by the end, I loved being a member of the crazy family that had everyone laughing.

As we headed off the cruise and saw the "See you real soon" sign, I realized how fun and memorable a trip the cruise was. It helped us get even closer as a family and made all of us realize how thankful we were for each other. I realized that family is not just an important thing, it is everything.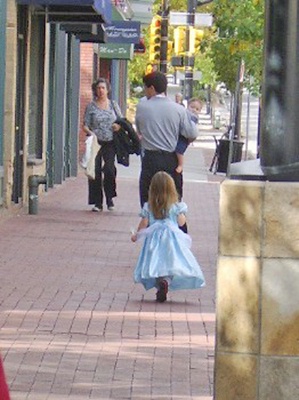 © Kristen T., Tulsa, OK