The Truth About Dreams
November 30, 2017
When people think about the worst thing about being a teenager, they think of only the simple problems: acne, hormones, drama, relationships, etc. While they affect every teenager including myself , in my perspective that's only the least of our worries. Subconsciously we think issues are bigger than what they will be in the next year or so, and in reality none of these struggles are actually going to have any impact on our lives in the years to come. These issues can be resolved, but as I was travelling to high school recently, I realized something: the future, which is as big as us, is our biggest problem.

My friends all have an idea of what they want to do with their lives. Medical school for four years to become a veterinarian, college for eight years to get a PhD. They want two or three kids, and already have the names picked out. Names of a Yankee player or a random name they stumbled upon on the internet. I, however, don't know what time I'm even going to start homework, get dressed, or even get out of bed. I'm a natural improviser, and I have an idea of the future, but I'm terrified of it. I welcome it, but also fear of it.

The pattern of the futures my friends want can be connected by a simple word: reality. There's room for a bunch of people to be doctors, the world needs a whole lot more of those. And sure, everyone with a pet needs a vet to go to. Kids don't have a limit either, push out as many as your uterus desires. All of these aren't necessarily dreams, but goals. With a goal, you can achieve it as long as you do anything that's mostly within reach of sensibility. A goal is safe, it's perhaps even easy to achieve for some people. Those goal-oriented people know exactly what they want to do and how they will achieve it. If you're one of those people, great! I'm happy you have your life figured out.

Then there are dreams.

Dreaming is different from a goal: because it's a dream (duh). A dream is configured in your mind, a simulation of the future you want to have, but defies the concept of realistic. Dreams can often stay dreams, and not everyone fulfills their dreams. The future for us dreamers is seen as a cloudy haze when thinking about how we will achieve those dreams, even though we probably have pinpointed every single mini-dream we have in those dreams. With a dream, you know that there's an unlikely chance that you'll achieve it because of how impossible/unrealistic it may seem. Maybe you want to be an actor, pop star, football player, or some other dream that would take a lot of yourself to strive for.

Now, it's okay to be a train wreck, especially at this stage in your life, but it can often make you insecure and doubt yourself in your capabilities in achieving a great future. The future can not be mapped out for certain. You don't know if you will ever achieve these dreams no matter how badly you desire it. The truth hurts, and I should know. It hurts to think you won't be able to do what will make you happy.

And so I am here to tell you: screw it.

That sounds edgy, I know, and it doesn't really help that much. But that's what you think. You think that it's too risky, and I don't think it's risky at all. It isn't risky to give your dreams a shot while finding a backup career in case that doesn't happen. It's not risky to give your dreams all of yourself and know that you at least tried, and that's fulfilling enough.
You may or may not be able to do what you have dreamed of the future to be like, and that's ok, because things don't always work out the way we wish for it to be. We make of what we got and be happier after we tried, because we now know that maybe the universe didn't plan for that to happen.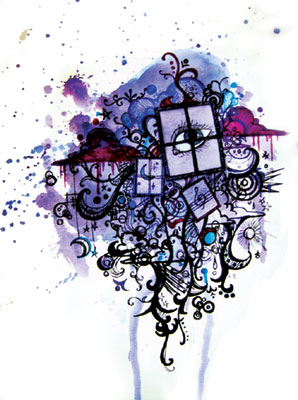 © Savannah R., Stoneville, TX