Spring Break 2012
November 16, 2017
In the year of 2011 my grandparents inherited a home in Arizona. So, in March of 2012 we decided to go and visit them as a family. This would be my first time going on an airplane. I had all sorts of emotions. I was excited and scared. It had also been months since I had seen my grandparents and I was thrilled to see them as well. It had been a bad winter with a lot of cold weather and snow, so I was looking forward to the warm weather.
We got going early that morning and headed to the Minneapolis airport. When we arrived I was amazed by the size of the airport and the planes. After waiting for two hours we finally started to board the plane. As our family boarded the plane, the pilot asked me and my brother if we wanted to come up front to the cockpit and sit in the pilot's seats. He was snacking on carrots and asked us if we wanted any. After he offered us the carrots, he explained to us that carrots are good for your eyesight and that is important when you are a pilot. Then, we got to our seats and were ready to taxi to the runway and take off. As we lifted into the air my stomach started to get this feeling that I've never had before.

After what felt like forever, we landed in Phoenix, Arizona. We picked up our bags at the baggage claim and rented a car. We had a two hour drive to get to Tucson.

The warm weather felt so good after months of the Wisconsin cold. The scenery was so much different than in Wisconsin with mountains, cactuses, palm trees and desert.

My family arrived at my grandparent's house and they were very excited to see us. We were greeted with lots of hugs. The first thing I did when we arrived was went and picked oranges, lemons and grapefruit off their trees in their yard. They tasted a whole lot different than eating Dicks Fresh Market fruit. We did a quick tour of their house and off we were on the golf cart to check out the neighborhood. Grandpa brought us down by the pool and then we went and checked out this amazing donut shop with the most amazing donuts. For the next few hours my brother and sister and I played outside and enjoyed the weather.

The next morning we threw on our swimsuits and jumped in the pool. The weather was awesome. It was in the 80's and perfect. We swam for a while, but Grandma had a whole day of fun planned for us. Our first outing was at Old Tucson. This was pretty entertaining, because Old Tucson is a Hollywood filming location. Movies such as Tombstone and Rio Bravo were filmed here. During one of the movie reenactments I was grabbed by one of the workers and put on stage. After Old Tucson, we went back to my grandparent's place and relaxed.

On day two of our vacation we again went swimming to start the day off. After that we headed to Funstasticks Amusement Park. We went on rides and water bumper boats. It kept us nice and cool all day. Later I, my dad, brother and grandpa took a hike onto Big Cat Mountain. Grandpa had warned us to beware of the jumping cholla cacti. I didn't listen. I was running around and fell right into one of those jumping chollas. I was covered in cactus thorns. They were stuck in my legs, arms and hands. It hurt pretty badly. We headed back down the mountain to Grandma and Grandpa's to start picking these thorns out. That was not fun.

Day three of our vacation was spent at the Tucson Zoo. It was a scorcher. It reached nearly 95 degrees that day. We checked out the zoo animals and a botanical garden which had some of the native plants and animals of Arizona.

Day four, a few of us headed to Kitts Peak National Observatory. My dad drove the 10 miles up the mountain. We looked through telescopes and were able to look directly into sun. We could also see Mexico from here. Kitts Peak has the most extensive collection of telescopes anywhere in the world. This was a pretty interesting visit.
Also on day four of our trip, we went to leave the house and the keys were locked in our rental car. Apparently, I had done this. With no spare key, my parents had to call a locksmith and have it opened. This little mistake cost them $185. My dad still holds this over my head.

On our final day in Tucson went to a Brewers spring training baseball game. It was another intensely hot day. But, what made it fun was that a Seattle pitcher threw me a baseball. The Brewers squeaked out a 5-4 win facing a Cy Young award winning pitcher against Seattle.

It was time to head back to Wisconsin. We packed up our rental car and headed the two hour drive back to the Phoenix airport. We had a layover in Denver, Colorado. When we arrived there, our flight was cancelled due to the severe winter storm in Minneapolis. We had a choice to stay in Denver for four days and then fly out or fly to Chicago. My parents choose to fly to Chicago. We had only 45 minutes to catch our plane to Chicago, Illinois.
When we arrived in Chicago we rented another car and began the long trek home. In the freezing rain it was a very scary drive. My dad made it just outside of Chicago and we decided to get a hotel room. We unloaded all of our things and went to have a famous Chicago dog at Portillo's, it was delicious. With our vacation extended one more night, we went swimming at the hotel. I wish my parents would have decided to stay in Denver to extend our vacation even longer.

The next day we loaded up the rental car and headed to Wisconsin. A 6 hour drive turned into a 10 hour drive because of the terrible winter storm. It was the longest drive ever. It was a little disheartening as we approached the Amery exit with snow coming down and knowing we had to drive all the way to Minneapolis to pick up our car at the airport. We dropped off the rental car in the blizzard and had to jump on a shuttle bus to finally go get our own car. We got all of our luggage put into our own car and started headed back towards Amery. An hour and 20 minute drive turned into three hours.

After a long trip we made it home. Although I loved our trip to Arizona, it was nice to be home. Spring break was over and I had to face going back to school the next day.

Five years later, we headed back hoping the trip home wouldn't end the same. In April, 2017 the five of us flew out to Tucson. We went there for Bergen to check out the University of Arizona. Grandma and Grandpa's home was much different. They had remodeled the whole place. It looked really nice. The scenery was still the same. The mountains were really cool and the weather was hot.

This trip was a short one and we didn't do a lot of the touristy things we had done before. We spent most of the time relaxing and enjoying the weather. I hope that we can all go there again soon.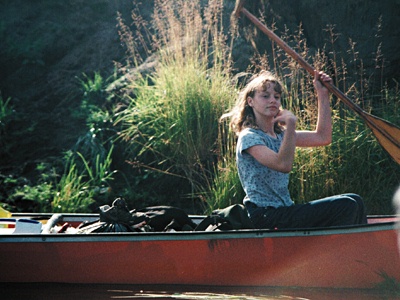 © Toni R., Kenai, AK