A Destination Near Death
November 14, 2017
I was sitting in the passenger seat, looking off into the darkness that covers the fields. It was approximately 10:30pm and my mom and I were on the Interstate Highway 5 going north to Sacramento. We were coming back from East Palo Alto, we dropped off my dad and one of his friend to go to work for the week. We were on our way home driving through the darkness a few headlights and some light posts.We were approaching an overpass.
"Oku ke sai pe?" I asked. I was worried because my mom was slowly falling asleep every 10 seconds.

"Ai pe o faka a'a mai nau tule mohe" she responded barely awake. So I just started talking even more more trying keep her engaged and awake.
So we were approaching the factory on the side of the highway we were coming up on another overpass. I stopped talking about like 2 minutes ago, little did I know that was one small mistake that could cause big problems and consequences. I literally closed my eyes for 5 seconds and my mom merged into the median strip off the road I heard the rumbling and woke up and screamed at my mom to get back on the road and she woke up and panicked and swerved on the road then going off a little ramp of trash gaining some air. It felt like we froze in the air and everything else was in slow motion. We crashed into the farm field and rolled about 5 times. My mom took off her seatbelt tried to open both doors but failed. She went to smashing the windshield, meanwhile I was still upside down. I took off my seatbelt and tackled the door open cutting my arm, I called my mom to get out. Recently I watched Fast and Furious 6 before we left and seeing the car upside down, I took out the key and we walked to the road.

If only I were to keep talking keeping her awake and keeping us both safe. That one little mistake caused a major consequence.That night I learned to count my blessings and that disaster doesn't need more than a second to happen and ruin everything.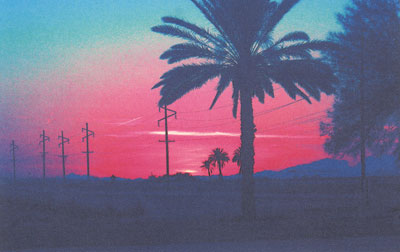 © Arenda R., Palo Verde, AZ