Think It Through
November 13, 2017
I was the youngest person to learn how to ride a bike in my family. At the age of three, I loved riding my bike around my grandparents farm. Living in the city and being a kid makes it hard to ride bikes around. When I was nine, I asked my dad to go on a bike ride.

"Where would we go?"Asked my dad.
"You should go to Gabriel Park." suggested my mom.

My dad and I headed to the garage to pump up our tires and find our helmets. It's a frustrating part of the process and always seems like it takes forever. Finally! We were leaving the driveway. At the time we lived three blocks from Gabriel Park. Gabriel Park is a large city park in Southwest Portland with trails that vary from asphalt, to rocks, to dirt. The way into the park is slightly downhill on asphalt. The asphalt was easy to ride on with very few bumps. I then came to a fork in the trail; either continue on the smooth asphalt path or the shortcut that is dirt and has steep bike stairs. I chose the shortcut.

"I'm gonna ride my bike down the bike stairs!" I yelled.
"Are you sure?" Asked my dad.

At the bottom of theses stairs, to the left was a five foot deep hole and to the right was a tree. In my head I saw myself riding perfectly on the path between the two.

"I'm going!" I yelled.
I put my feet on the pedals and started going down.
"Use the brakes!" Yelled my dad.

By the first step I panicked and it all was a blur. I heard the alarm in my dad's cries to use the brakes but my feet weren't even on the pedals anymore. The small tree looked bigger and bigger as I flew toward it. I slammed face first into the tree. My face and knees were bleeding like crazy. My dad hopped off his bike to see if I was alright.
"I think you just banged up your nose." said my dad in a calm voice.

"I don't think I can ride home." I whimpered.
"No, I'll call Mom to bring the car," chuckled my dad.

I walked, all bloody, up the hill to the parking lot. Soon the bleeding subsided and I climbed into our car feeling defeated.

Earlier that day, I was so excited to ride my bike and go on a long bike ride. My bike ride was over in 3 minutes because I took the dangerous shortcut. I learned that if I had thought it through and taken the long way around my bike ride could have been the best.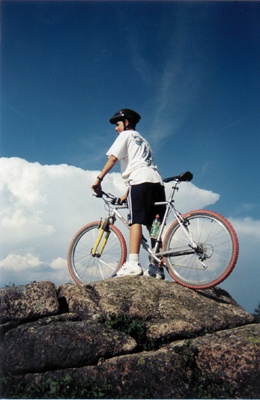 © Jeremy S., New City, NY