Adventures at Great Wolf Lodge
November 13, 2017
Last Christmas, my sister Natalie and I got a present from my aunt and uncle to go to Great Wolf Lodge for two days in January. We were very excited to go again because of all the fun memories that we made there when we went a few years ago. I wanted to go again and the anticipation was killing me. I instantly thought that I should bring my GoPro to capture all the action on the water slides.

A few days later, we were finally ready to go. My dad drove me and my sister to Great Wolf Lodge to meet my aunt. As we entered the building, I saw christmas decorations everywhere. Inside, it looked like a winter wonderland with artificial snow, huge snow flakes, and an abnormally large Christmas tree. We could see through to the water slides. I was so excited. My aunt had already checked in and got our room keys. We took the stairs to the sixth floor which was where our room was. We entered our room and dropped our stuff on the floor.

At last, we could finally go to the water park. The first slide that we all went on was River Canyon Rush. River Canyon Rush is the slide that has lights and music inside the tube. When we were at the top of the line of River Canyon Rush, about to go into the slide I turned on my GoPro and hit record. The lifeguard loaded us into the raft and we entered a whole new world. After getting to the bottom of River Canyon Rush, my sister and I headed to another slide and zoomed down it. We got to the bottom and saw that there was a short line for the Howlin Tornado! We got in line and walked up the stairs . We waited in line for about fifteen minutes. It was finally our turn at the top of the stairs. I turned on my GoPro and I hit the record button.

My sister and I then got in the raft and we were swallowed into the slide. My sister went backwards then we plummeted the big drop. My sister and I screamed at the top of our lungs.

"We're going to die," Natalie yelled.

We started going up and down the walls. I looked down at my GoPro and I realized that the battery was dead. My sister was really exasperated. She really wanted to see the footage. I wanted to too. We still enjoyed the thrill and wanted to go again, but the line was so long and we were going to dinner.

My adventure at Great Wolf Lodge was a fun time and I got a lot of good memories from it. And although I couldn't record the best part, it was so fun that I don't even need a video. As we were returning home, I thought about how great of a time we all had. Next time we have a family excursion, I will be sure to fully charge my GoPro.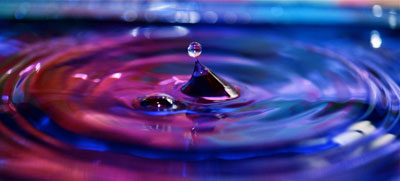 © Haley L., Anchorage, AK