In the Grove
November 12, 2017
The wind is so chilling that I cannot make sense of my feet, yet the undulating hands of the treetops continue to wave to me, energized, excited by the wind. They caress the sun, the sky, the clouds, happily. I am unprepared, unfamiliar residing here, as the trees rock back and forth, back and forth, unbothered, unconcerned. The sparse clouds open up, allowing a glimpse of the clear skies beyond.

No looming, suffocating walls hover over me, familiarly. I sit freely; the rows upon rows of desks unable to deter me as the hurried squirrels trek by. The certainty, the safety accompanying those looming walls drifts away as well, incapable of aiding me. The trees shadowing around me, to my left, to my right, emit endless possibilities. And yet I feel relieved and satisfied.

The wind passes through the trees like a flute. Nature plays its own song and story with the wind, with no conductor to manage its fancies. The unobstructed birds and insects take part in the singing, as well, interjecting as they please. The longer I listen, the louder the drone, the buzzing, the chirping becomes. The lone melodious hum splits into several as I listen close, each animal bound to the others, but endeavoring to make itself known. The whistling wind embraces me too, including me in the song as I sit in the grove. The buzz of a distant aircraft is drowned by the cohesive efforts of the flurry of wind, the music of the birds and bugs.

The lonely sun tries to hide behind the wispy pine trees after I emerged, reaching for cover. The wind becomes chillier, blowing through layers of clothing, carefree, and the birds become hushed. The lone hawk, formerly soaring at its will, becomes invisible, all while I sit remote, distant, aloof.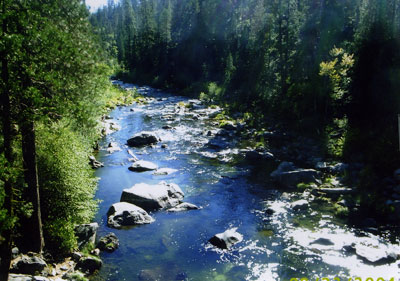 © Laycie C., Stockton, CA