Philippines Experience
November 5, 2017
"Finally we're here", Ella thought to herself. After an 18 hour long flight she and her family landed in the Philippines. She was so excited to get off the plane; this trip was long overdue and Ella wanted to see everything. Who knew it would take fifteen years of her life to finally have a vacation in the Philippines. One foot out the plane door and Ella was already sweating in the extreme heat. Retrieving 14 bags of luggage was pretty simple, since they were in the express lane because of her grandmother. Ella was very curious around the airport, she questioned anything that came to her head. From the layout, to comparing it to JFK back in New York. Ella's parents were extremely excited about the fact that their daughter would finally see her native country, and the place where they grew up in.

Once her and her family made an exit they entered their rented taxi van and left. Automatically, Ella started to notice complete differences between her two countries. While driving down the highways any driver could not drive longer than 20 seconds without hitting traffic. The traffic was grid locked like brick walls, but instead of bricks it was cars. Her family's 30 minute car ride to the hotel turned into an hour. On top of that motorcyclist were seen swerving through the cars like a maze. "Back in the US motorcyclist and drivers had to act the same and follow the same rules. Unlike in the Philippines apparently", she commented to herself. Even their bus system was different. There were no bus stops and anyone at anytime could get on or off the bus; even in the middle of road!

Finally after sitting through endless amount of traffic, Ella and her mom checked into the hotel they payed for in the main city called BGC. Ella loved the place she and her family stayed at. But tas the days went by, Ella started to realize a lot of the cultural norms in the Filipino society. In every commercial the main advertisement they aired was skin whitening products.

"Why does everyone in the Philippines, including the celebrities want to whiten their skin"? Ella asked her mom.
"Because they want to be like Korean's and have milky like skin." her mother stated.

Back in the US any dreamed on having her complexion, having a warm town to yourself was what everyone wanted. Ella was always proud of her natural skin tone, it was unique and to hear that even her own race wanted to embody someone else's was shocking to her.

After a week Ella and her family checked out of the hotel and headed down to where her mother and father grew up. The streets around the provinces were very narrow, crowded and dense like there was almost no space. Immediately after entering the house, Ella was bombarded with multiple electric fans.

"Why are there so many fans on? We can just turn on the air conditioning." Ella mentioned to her father.
He relied, "There's not central AC that goes throughout the whole house. It is only in the bedrooms." And with that Ella would isolate herself in her room just to stay cool. Earlier on before arriving at the house Ella was told that there was no wifi, and that if she wanted some they would have to connect and possibly even steal their neighbors. Ella started to realize how much she missed the things she had back in New York. She missed things from her bed, nice refreshing showers, the wifi and the air conditioning.

But during her experiences at the local malls, is what really put her mind in perspective. Entering the mall, every single person had to go through a security check. People were scanned and bags were checked. There was no entrance without a security check. Pass that while walking around the mall, Ella felt uncomfortable. Many people would stare at her because of what she looked liked and what she wore. Ella's wardrobe wasn't fancy or over the top. She wore, what she always thought, normal everyday clothes that you find any person wear back in the States. "In a typical mall, anyone would dress the way I am dressing now", Ella said to herself. In the Philippines everything was opposite. People wore flip flops no sneakers. Women with their makeup was also also different; heavy and unnatural. Ella always thought that when she went to the Philippines she would feel like she would fit and finally meet people just like her. But instead of feeling normal and accepted she felt like an alien. She realized that because of where she grew up it affected her whole lifestyle. Ella learned that social norms and trends can be extremely different in other countries. In the end after her long knowledgeable trip, Ella and her family returned back to New York. Ella started to become more grateful that her family sacrificed a lot just for her to live a very decent life. Finally, her mother asked her one last thing;

"You know you're a lucky girl right?"
"Yeah, I know", she relied.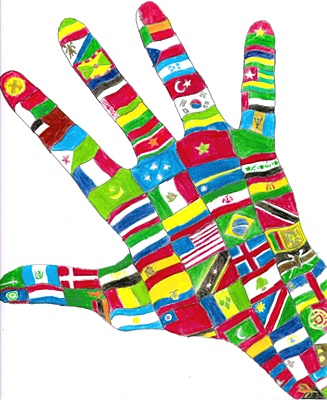 © Adeline N., Ridgefield, C