The Best Gift to Give
October 29, 2017
Memories always seem so distant. The word brings on nostalgic feeling about looking back onto the past. People always want to hold onto them, yet memories have never been a tangible object and people seem forget some of the best of them. Memories seem close to impossible to keep a grip on.

I only had two days before my gift had to be wrapped and in my best friend's hands to open. There was only one problem: I had no idea what to get her for a gift. I knew her like the back of my hand, and yet I couldn't think of anything to get her. She's not a materialistic person, so walking into every store I would find nothing she would truly appreciate. My time was rapidly running out and I knew there was nothing left to do.

"This is pointless!" I practically screamed at my two sisters, who had been listening to my dilemma.

"Buy her a bracelet or something," Arabella, my one sister said.

"No! I've bought her jewelry before. She never wears it and she already owns so much. It would mean nothing," I exclaimed, clearly exasperated from the conversation.

Ally, my best friend, had moved to Oakland in the fourth grade. We soon became inseparable; it was like I had a third sister. This was the fifth birthday we were spending together, and I wanted to make it memorable. The past summer she had a major surgery concerning her medical condition and I wanted to make sure she knew I was always there for her, but I couldn't think of anyway I could contain all my support in a birthday gift.
"How about a sweater? She loves those," Arabella tried again.

"No, Ally's whole wardrobe is practically sweaters at this point."

"Well she liked the photo card you gave her back in April," my other sister, Julianna, pitched in, referring to the card I sent to her for the surgery. It was a simple gesture. I had made a card full of pictures of us over the year and sent it with her to Baltimore. She loved it and kept it with her through the entire trip.
"Yeah, she liked seeing all the photos of you two together over the years," Arabella adds.

Immediately my nerves are eased when a brilliant idea pops into my head. I ran out of their room and sprinted around the house looking for my dad.

Finally, after finding the man, I just about screamed, "Dad! I need a mason jar!"
"A mason jar?" he asked, confused by my request.

I quickly hushed him and ushered him down to the basement to find the glass container. He soon came back in the room and handed me the jar. Thankful, I grabbed it from him and ran to my room. I threw the container on my bed, pulled out my arts and crafts bin, and powered on my tablet. I logged into pinterest and immediately got to work.

Scenes from our time together started flowing out of me. Images of the two of us filled my brain. My hand could barely catch up. We were skipping through New York City holding our American Girl Dolls. Then we were giving each other piggyback rides in The Bronx Zoo and chasing after our friends. Moments of us gossipping while watch HGTV on her couch floating through my head. My brain was spitting memories: walking through town, going out to dinner, going to sporting events, meeting family members, Frost Valley. The moments never ceased. I had over 100 memories in the jar and after hours of scouring the internet, drawing, writing, cutting, and eating a lot of snacks, my present was finally complete.

The smooth, glass mason jar had been turned into a sentimental creation. On the outside, a handmade label was taped. Written along the paper in script, was a quote that read, "We didn't know we were making memories, we were just having fun." The thin, black ink fills each letter with wispy strokes.

The throat of the jar has twine braided around and is tied to a small tag filled with heartfelt words, and dorky references that will make the reader cry from the overwhelming nostalgia . The lid also has a quote scrawled across the top in the same wiry script, "The best part about Memories, is making them." Unscrewing the lid one will find hundreds upon hundreds of creme papers filled with memories of us over the years.

My gift was finally done and it reflected the five years of us together and how far we've come. I knew this was exactly the gift I was looking for. The excitement in me felt like a jack-in-the-box ready to explode. The next two days passed faster then the memories we had made.

"Ok, ok! Mine next!" I shouted. Our families had met up and were now exchanging gifts.

"Alright Talia, I'm sure there's plenty of time for yours," Ally's dad jokes with me.

Huffing, I thrust the bag in Ally's direction, impatiently wait to see her reaction. My pent-up excitement was finally escaping my chest.

When she lifted the jar out of the bag, her face scrunched, showing her confusion, but then her eyes slowly begin to swell with tears. She immediately started to unscrew the lid and look at the papers inside. With her speculations confirmed, she put the lid on the coffee table and enveloped me in a big hug, and I knew that I had finally given the best gift to give: memories.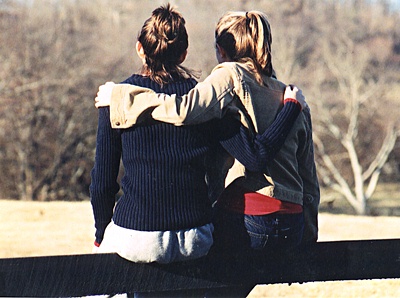 © Jaime M., Wichita Falls, TX