Animal
October 27, 2017
Most of the time during fifth-grade and middle school I felt closed off, disliked, and alone. I felt like I was left in the dark. That time of my life is not something I would want to relive, but it taught me many life lessons. The biggest lesson, by far, is that if you get the chance to make somebody smile, laugh, or be happy, do it.

I remember one specific time that stands out the most. One day in fifth-grade my teacher was redoing the seating chart and I ended up situated next to one of the boys who did not get along with me. When he heard that he got arranged next to me, he started demanding to get his desk moved away from me. Which, I have to say, I also wanted because we did not get along and I did not want to get in trouble.
During 'snack time' that day, that boy got all of the other boys, and even some girls, to rally up and have a fake 'court session' against me. During this 'court session', no one would take my side, and nobody would listen to me. It even went so far that they called me an animal. Being called an animal by my classmates was my breaking point, so I yelled as loud as I could for the teacher. Everybody went silent, except for a few snickers, and the teacher bolted out of her chair and ushered me outside of the room as I was starting to get red and cry and heave.
At the time I thought that their words and actions would never stop. I thought that I wouldn't get better. It really felt like I was a wild animal to the other kids, like I was not one of them. My parents wouldn't even know that their teasing happened unless the teacher called home and told them. It almost felt as though I could never be myself in front of others, because if I did they would torment me for it.
After the big 'court session', they stopped for a little bit, and I found out that one of the girls who was on 'their side' loved the same movie as I did. I brought it up to her and I also got her into other shows I watched and games that I played. She would tell me jokes and make me laugh whenever the other kids would tease me and eventually over time I would do the same for everyone else. By the end of fifth-grade, I had a true friend.

By the time I reached sixth-grade their teasing had lessened and we had a new set of twins come to the school. At first, they were friends with other girls that they recognized, but one day one of them saw me reading a Harry Potter book. She came up to me and told me a corny Harry Potter joke that made me laugh. At first, I thought that she was just acting cordial, but she came in the next day and we had a wonderful time fantasizing about books, movies, and games. That's how it's gone on for a long time, we would sit, fantasize, smile, and laugh. No matter what, she would always know how to make me so happy, and I learned to brush off what the other kids would say about me. I am still amazing friends with her to this day.
Last year I felt very content and peaceful because I had befriended everyone in my class and made them laugh, even the boys who had ridiculed me. Over time I've realized that just by being wacky and funny, you can really bring people out of the dark and put a smile on their face.
Other people have helped me out of the dark by being funny and silly and I try to help others in return. Nobody should ever be in the dark. That is why I strongly believe that if you have the chance to make somebody smile, laugh, or be happy, do it.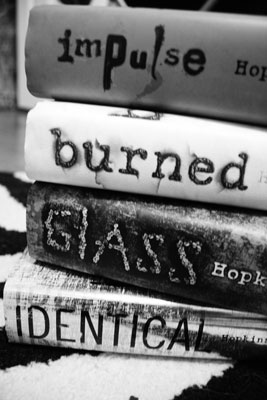 © Bria B.