Bloom
October 27, 2017
At the mere age of 11, I was diagnosed with depression, anxiety, OCD, and misophonia (a sound sensitivity disorder), and worst of all bulimia. At the mere age of 11 years old, all of my insecurities and sorrows would rush into my head as though the dam holding back my thoughts had just shattered into a million small pieces. There I was, every day, with enough thoughts to fill the atmosphere of the earth itself. Overwhelmed I was, until a rose, a tulip, or sunflower got dropped off in the fragile hands of my 11-year-old self. For a moment, my mind was healed. Only then could I have the ability to give some color to the darkest parts of my mind. But the inevitable death of this single flower was sure to come, and when it did my mind turned gray once more. I had no control of when I received these most beautiful flowers.

Therefore, as you can imagine, my gray mind carried black thoughts around with me always. Without these flowers, there was no way to stop these pitch-black thoughts. Every ounce of my happiness relied on the opinions, actions, and words of others. If a single person did not present me with a freshly picked flower my soul would be crushed. I would sit in bed and think about my life, my insecurities and my strongest desire to be happy.
One day when I laid my head upon my pillow and dazed off into a dream, my world changed forever. It was marvelous. A meadow, full of flowers, full of love, and most of all, full of happiness. My dearest mother was there and she wore a smile brighter than an eclipse. My closest friends were there, from past and present. We danced and sang and watched the radiating sunset in the west. We watched the different shades of orange and pink elegantly dance across the sky.

I woke the next morning a different person. I realized that I can plant my own garden and decorate my own soul, instead of waiting for people to bring me flowers. Meadows upon meadows of the most exquisite flowers bloomed in my mind. I vowed to be the author of my own happiness and not let the options of others determine how I live out my life. My only life here on this wonderful earth.

I know many people that find their life here a miserable hell, but I see quite the opposite. If I am unhappy, I find a way to fix it. This life is only what I make of it, and now I make it sweet, like simple, beautiful rose. Freshly bloomed, freshly picked.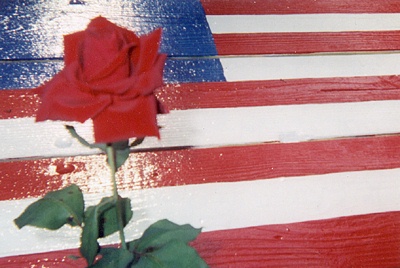 © Elizabeth H., Gulfport, MS