My Favorite Tradition
October 25, 2017
Ever since I was young, my family has been close. We do a lot together - we hang together, cry together, and laugh together. Some of my best memories are with them! 
My favorite memory includes sitting with my family during the holidays, curled up on the couch together as we watched the Thanksgiving parade. We love watching the Macy's Thanksgiving Day Parade every Thanksgiving. We would wake up early to run out to the living room in our pajamas and then curl up on the couch to intently watch it. We'd sing along, take pictures of the TV to post on social medias (when we were old enough, of course), and chatter about our favorite bits while they were on. 
My parents would be in the kitchen behind us. My dad would be preparing the turkey while my mom worked to fix the rest of dinner. My dad would help her when she needed it, though. 
I would go out to help my mom when she needed it, too, and she would teach me how to prepare certain foods. She taught me how to cook! I was so proud to be standing there with my idol annd have her teach me how to make dinner, as this would prepare me for my future with my very own family. 
After the parade, my brother would go into his room to play video games and I would go into my room to do crafts, as I've always been a huge art fan. I'd come out to show my parents my arts and they would always praise me - they have always loved my art, no matter how cringy. 
My parents would put on a football game and watch that as they put the finishing touches on the meal. They'd set up the table, getting plates and cups in their places. 
Around 3-4 in the afternoon, we'd be called to the table. We would find our seats, situationg ourselves. My mom would ask us which foods we wanted and how much of each as my dad helped us fill our glasses. Once everyone had food and drinks, we'd hold hands and close our eyes, saying our prayer.
As my brother and I got older, my parents began having us do the prayers. We would take turns - I would do one holiday, my brother would do the other. It was fun, yet kind of embarassing! I would always get so anxious about doing this, but it was fun overall. 
I will continue to do this fun Thanksgiving tradition with my family as long as I can! We are a family, forever united, whether together or apart!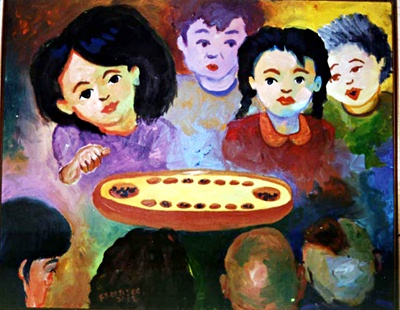 © Fransisca A., Surabaya, Indonesia