The Sound That Started It All
October 26, 2017
BOOM! It's funny how one sound can impact your life forever. In my case, it made me learn a valuable life lesson. I believe that I should make the most of every moment because I can never know what might happen. I treat moments like gifts. A moment is a very brief period of time. Moments don't last forever. Sometimes they end unexpectedly, so I treasure them while they last.
The second day of 6th grade was when my outlook on life changed forever. After school, I hopped into the backseat of my grandma's car on my way to a doctor's appointment. I hated the doctors so as soon as I got in the car, the nerves rushed to me. My grandma decided to play some music to distract me from my thoughts. One of her favorite songs, ABC by the Jackson 5, came on and we began to jam out. We were stopped at a red light right before turning onto the street of my doctor's office. As we were sitting at the red light, all of a sudden I heard and felt the loudest BOOM! of my life. It sounded like 20 bombs went off at the same time. I was thrown into my grandma's seat in front of me. The impact was so extreme to the point where my grandma's glasses flew out the back windshield. Finally when we stopped getting plowed 100 yards, about the size of a football field, I realized what had happened.

At first I started screaming my head off but then I realized I had to calm down and help my grandma. As her seat was now in my lap, I managed to choke out through my tears, "Mama, are you okay?" and she managed to reply "no.". At that moment I thought I was going to lose the woman that I look up to every day. When she was in 5th grade, her mother died of a brain aneurysm. She had to learn to live without a mother since a young girl which makes her my inspiration and the strongest woman I know. I couldn't lose her. While my thoughts were going crazy, I looked out my window and saw a man coming my way. I opened my door and began talking to him. Since I was a 6th grader without a phone, I had no way to contact my family. Luckily this man saw the crash happen, and he immediately called 911 for help. My grandma and I were brought in an ambulance to the nearest hospital. I was able to walk away with only a few scratches and a sore body. My grandma was in a lot of pain but after two years, she had finished getting the help she needed. She just recently finished her last physical therapy session. As for the car, it was totaled with smashed windshields and glass gleaming on the seats. Many witnesses of the crash said the man who hit us was texting and driving and not many people are able to walk away from a crash like this without much harm.

This experience continues to impact my life everyday. After now being in four car accidents, I never want to get my license. Also, I will always hate driving on that road to my doctor. Most importantly, this horrifying crash helped me realize that there are going to be good and bad moments in life and I need to appreciate the good and learn from the bad. I never know when the next BOOM! will come.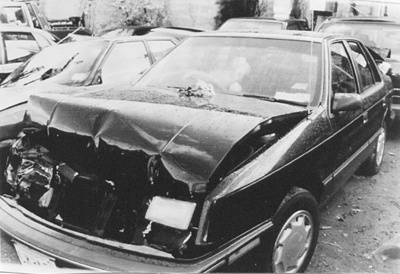 © Maura D., Marshfield, MA