Being Reckless
October 24, 2017
"Crash," I was falling. "Smash," went my two wheeler. "Thump," I hit the ground as blood spilled on the sidewalk. I would of been dead without my head protection.

I was just about six years old when I figured out how to ride a bicycle without training wheels. I realized that without the extra pair of support for my bike that I can ride faster than usual. After months of training myself to ride a two wheel bike, I was able to ride without my mom or my dad's help. Everyday after school, I would take my red bike for a ride until it was time for me to go inside. Although I enjoyed biking around the neighborhood, the worst disaster was yet to come.

My house is located at the edge of my street. It was just big enough for my whole family. The front yard was filled with colorful flowers and an apple tree which still produce apples ever since we moved here. Then a strip of fine green grass filled the ground in the front yard. There was no one to play with because my brothers were too small to play rough. Just because I was bored, I went to the garage to fetch my bike and took it outside to my side yard. The bike was just my size. It was painted red with medium sized wheels and a rocket logo under the seat. It was just like every other kid bicycles I have seen. It had a kickstand and bicycle pedals that make your bike stop when you pedal backwards. I was just about to open the gate that led to my driveway when my dad arrived from the house. He came to me with my helmet and said, "Ryan, you need to wear this."

"Fine," I snorted.
"Come on," my dad said. "It is for your protection."

"I know," I raised my voice. "It's just that I don't like it." It was true. Even though I loved riding my bicycle, I hate to admit that wearing a helmet is stupid. I did not know why people made it a rule that you should wear helmets when you ride a bike or a motorcycle. It is painful when the helmet tries to choke me like I was about to die. Like I could not have argued, I put on my helmet like the thing was not going to help at all. Just as my dad gave me a boost, I was determined that I was going to ride my fastest and that nothing would stop me from biking. I went out of the side yard, down the driveway, and onto the sidewalk.

After 20 minutes biking around my neighborhood, I was sweating and panting a lot. I decided to go on my bike route around the area just one last time. I started to pedal downhill on the bumpy sidewalk. I thought I was too fast that I didn't need to pedal anymore. I straighten my legs on the unstable pedals just to touch the leaves with my helmet at a tree nearby. Coming down on the hill my bike skidded right with the sidewalk.

Just as I turned right around the front yard feeling fearless, I didn't notice that I was too close to the edge of the sidewalk on my left side. Suddenly, my bike went off course into the dirt beside the cement. I had a heart attack as I dived onto the rough sidewalk and held my hands in front of my body. I crashed onto the ground with such an impact that I thought I was unconscious for awhile when the side of my head hit the ground. I immediately lost confidence in biking as I got up feeling hurt and pain. I realized my elbows and knees were injured and bleeding painfully as I tried to sit straight. I started to cry. My dad ran to me and my mom came out from my distress call. Feeling unable to move, my dad asked, "Are you okay?"

I tried to say "No", but I kept wailing from my injuries and muffled in the stinging pain.

"Everything is going to be alright," my dad said calmly as my mom came to pick me up. I was taken in the house still crying as I was given medicine and bandages.

After the day I fell off my bike, I was too reckless to bike anymore until I realized that safety is always important. As I got older, I looked back at the past when my dad asked me to wear my helmet. I could of been dead or in a coma for months if it wasn't for a little annoying headgear.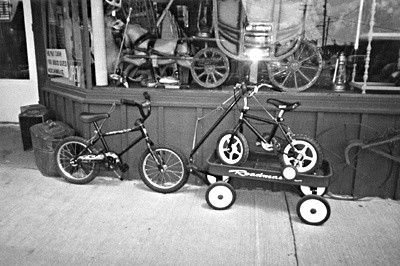 © Eva A., Eagle River, WI